It's often been said that a car is the outward visualisation of the inner man – the embodiment of everything he is, or at least imagines he is. This mantra could well have been written with James Bond's silver Aston Martin db5 in mind as it is, in effect, the super-agent himself embodied in gleaming glass and metal. Though only the third cinematic outing for Ian Fleming's perennial spy, by the time Goldfinger hit the big screen Bond was well and truly established as the fulfilment of everyone's fantasy – every man wanted to be him and every woman wished her man was too.
Of course Bond required a suitable car to reflect his newfound status and Q, MI6's resident boffin, created his most sophisticated and accomplished item of motorised gadgetry to fulfil the criterion. Like the spy himself, there was more to Bond's new toy than originally met the eye. The ultimate 'weapon on wheels' the db5 was what you'd get if Bond's Saville Row tailors were to create a tank, complete with armour plating, switchable number plates and built in machine-guns, not forgetting of course an ejector seat which would make a fighter pilot green with envy.  So popular was the car and so synonymous was it to become with Bond himself that it made regular, all-be-it fleeting, cameo appearances in several subsequent adventures, including Pierce Brosnan's first outing in Goldeneye.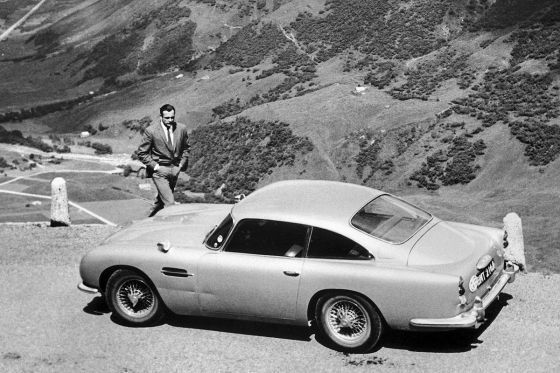 However, though Bond may have had an unswerving allegiance to crown and country during the last fifty years, the same cannot be said of his chosen mode of transport. Over 23 films he has changed his car with as much frequency as his women, driving a whole host of dream machines from the American Lincoln Mark VII in Licence To Kill to the German BMW Z8 in The World Is Not Enough.
But not to fear.  As the ultimate personification of Britishness, and like Bond himself who continues to confound doom mongers amidst rumours of his imminent demise, the db5 is set to make a comeback later this year in Skyfall, and will continue to protect its owner in suave style.