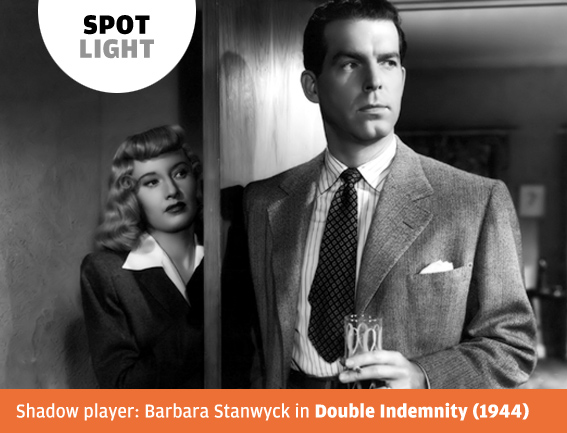 In the first of a two-part piece Emma Simmonds examines four prototype noir villainesses from classic Hollywood cinema. Next week, she looks at the far-reaching legacy of these scintillating spider women by considering French cinema's most memorable femme fatales.
The Hollywood noirs of the 40s left an indelible impression on cinema. Their depictions of powerful, duplicitous women played on men's fear of emasculation and encroaching female empowerment. These women were sexually manipulative, shrewd and utterly ruthless; leading men – who fell hard and blindly – to their ruin. To quote Double Indemnity, pretty isn't it?
---
Phyllis Dietrichson, Double Indemnity (1944)
Dir. Billy Wilder
In Wilder's superlative noir, Barbara Stanwyck plays the unforgettable Phyllis Dietrichson, less deceptively delicate than others of the ilk and twice as rotten. Poor, dumb Walter Neff (Fred MacMurray) shoulda' known she was trouble. Phyllis' flirty banter with Walter's visiting insurance salesman quickly spirals into a murderous scheme to dispatch her wealthy, inconvenient husband. With her formidable self-possession and (for the time) outrageous sexuality, she is woman as a drug: intoxicating, potent, mind-altering, addictive and deadly. Stanwyck, on exceptional form, plays Phyllis as a dame with a murderous look in her eyes: as her husband is strangled beside her, and the camera moves in close, her gleeful malice is subtle yet unmistakable.
---
Ellen Berent Harland, Leave Her to Heaven (1945)
Dir. John M. Stahl
Beneath the lurid sheen of this fine melodrama beats the dark shrivelled heart of pure noir. Gene Tierney, in arguably her greatest role, plays Ellen Berent, a woman obsessed with her dead father who aggressively woos limp novelist, Richard Harland (Cornel Wilde) on the basis that he bears an uncanny resemblance to her dear departed papa. Proposing to him (and unceremoniously ousting Vincent Price in the process) she tells Richard ominously, "I'll never let you go. Never, never, never." Once she has ensnared her man, Ellen reveals herself to be fatally averse to sharing, even when it comes to the prospect of children. To excise others from their life, she commits a trio of malevolent acts; each trumping the last in its heartlessness. As a point of comparison, the capable, athletic, competitive Ellen is pitched against her docile, homely, infuriatingly understanding sister Ruth (Jeanne Crain), who is revealed as Richard's real love interest. The casting of the doll-faced Tierney in the role of a murderous control-freak works wonderfully; her flawless features become – in this context – not quite human.
---
Kathie Moffett, Build My Gallows High (1947)
Dir. Jacques Tourneur
Build My Gallows High (also known as Out of the Past) features the feline Jane Greer as scheming siren Kathie Moffett. Jeff Markham (Robert Mitchum), a private dick, is sent to retrieve Kathie after she shoots her lover and absconds with a small fortune. With bloodhound like precision, Markham tracks her down to Mexico, but one romantic clinch by some fishing paraphernalia later, and he's appropriately hooked. Kathie is the image of feminine perfection; a sultry seductress with deep, soulful eyes and soft, cascading curls. Although she feigns vulnerability, she is in fact an arch manipulator, expert at bewitching men by playing the teary eyed tragedienne. Kathie first reveals her true, dastardly colours in a tight spot when she appears exhilarated by Jeff and a foe sparring violently and proceeds to coolly shoot his adversary dead. After her inevitable betrayal, Jeff remarks with perverse admiration, "You can change sides so smooth".
---
Elsa Bannister, The Lady from Shanghai (1948)
Dir. Orson Welles
In Welles' howlingly mad thriller, Rita Hayworth plays Elsa Bannister the beautiful wife of an unhinged lawyer. More diabolical than Orson Welles' 'Oirish' accent, Elsa is a cool – no, plain cold – customer. The more commonly flame-haired Hayworth sports a sleek peroxide blonde barnet, symbolising her move from fire to ice; a decision which reportedly enraged Columbia Pictures' studio head Harry Cohn. Rescued from a group of ruffians by Welles' Michael O'Hara, Elsa offers him a position on the crew of her yacht, spicing it up by promising, with the raise of a shapely eyebrow, "I'll make it worth your while." Suspiciously, she remains unruffled by the early revelation that he has killed a man. Michael, it transpires, is a convenient, blunt instrument. His opening description of her sums their doomed relationship up nicely, "Once I'd seen her I was not in my right mind for quite some time…some people can smell danger. Not me."
---
Emma Simmonds
---
Read part two – The French Connection – next week…