From the moment I glanced at the mirrored sunglasses of Tilda Swinton in A Bigger Splash, I knew it was time to give my own take on the best shades in the history of cinema. It's summer and the fact of the matter is that the summer sun is much more bearable in a pair of sunglasses. And not just any pair of sunglasses, but one with no corner-cutting on style or quality. There is no better place to look for inspiration than the movies, old and new. But I am warning you, I am biased; they're a rare breed, these pieces I'm listing here. First of all, my selection only includes films that I liked, all of them good movies, for one reason or another. Well, yes, even Top Gun. I mean, have you seen all the good parts of '80s fashion better portrayed in any other film than they are on Kelly McGillis in Top Gun? Secondly, they are all enduring styles that I myself would wear (that's why you won't find the Lolita sunglasses here, regardless of how memorable they have become – the quality of timelessness eludes their red-brimmed heart shape) or that I would like to see men wear. Thirdly, need I mention the mandatory character-driven element? All of the above work in concert to compile my very personal view on the subject matter.
Tilda Swinton in A Bigger Splash, 2016
"It's not only about style, it's a question of cinematographic language as the glasses reflect for the viewer what she sees," says director Luca Guadagnino about Tilda Swinton's rock star Marianne in his latest film, A Bigger Splash, loosely inspired by Jacques Deray's 1969 La piscine, but which also had as a strong reference point Roberto Rossellini's 1954 Viaggio in Italia. The mirrored sunglasses are one of the standout elements of Swinton's costume, alluding to Marianne's rock persona (unlike the rest of her very ladylike clothes). "She has a David Bowie/Freddy Mercury stage persona with a bit of Chrissie Hynde." Guadagnino worked with Raf Simons again on this film (I Am Love was their first collaboration) as well as with costume designer Giulia Piersanti.
Cary Grant in North by Northwest, 1959
So many years after I was introduced to Roger Thornhill and so many viewings of North by Northwest later, I am still intrigued by the sunglasses Cary Grant wears in Hitchcock's 1959 thriller. In orangey tortoise-shell, with green lenses, they are rather unusual, not exactly what you'd expect, but that's exactly what makes them enduringly classic. Sharp and daring, they're a piece you won't forget, and one that won't age either. They are cool. And Cary Grant made them that. Any other style on him in this film wouldn't have had the same impact, nor would these sunglasses have had the same effect on any other face. I am sure their appeal has to do not only with Grant's effortless composure, but also with the character's sense of humour. He knows he is unconvincing when he uses them trying to hide from the police at Grand Central Station. He shows the same sense of humour (and wit, too) when he is trying to seduce Eva Marie Saint in the dining car (while still wearing the sunglasses). Or is it the other way around?
Gene Tierney in Leave Her to Heaven, 1945
There's something distinctive about these sunglasses that makes them my all time favourite on-screen sunglasses worn by a woman. Leave Her To Heaven is a remarkable film, not only because it's a great noir (and because Gene is a great femme fatale), but also because one fantastic image succeeds in summing up the fashion of a decade. Gene Tierney's famous boat look sees her wearing the least glamorous piece of clothing, a bathrobe (but one with padded shoulders, naturally), but completed with the most glamorous finishing touches: perfect red lipstick, impeccable hair-do, and those fabulous sunglasses. Indeed, those sunglasses. What more suggestive way could there be to reflect her unblinking cruelty?
Kirsten Dunst in The Two Faces of January, 2014
This is my idea of statement sunglasses. Colourful frames (keeping it in elegant lines, though) and a classic shape. Just like the costumes in The Two Faces of January, they have a vintage flair, while looking undeniably modern. Every wardrobe piece is simplified and understated, as costume designer Steven Noble wanted "to keep it minimal, contemporary, and chic", advancing the idea that only when historical ties are loosened can viewers of today (or tomorrow) begin to identify with the characters on the screen. I agree. About Colette's yellow dress, the designer said he "went to look at the light, the colour of the stone and the views before I designed that." He probably had the setting in mind when he chose the yellow-rimmed eyewear, too. All three main characters have distinctive sunglasses. They are a must in shielding from the unforgiving Greek sun, but there is something more that is hiding behind each pair.
Leonardo DiCaprio in Catch Me If You Can, 2002
After the lesson in style that Cary served us in North by Northwest, I didn't think it was possible for any actor of today to don another pair of tortoise-shell shades, especially one with yellowish frames, which could easily pass as cheap and flimsy. But Leonardo DiCaprio pulled it off in Spielberg's 1960s-set Catch Me If You Can. DiCaprio's character thinks he can get away with anything. He's right, at least as far as those sun shields are concerned.
Bibi Andersson in Persona, 1966
Intensely provocative and clever, with minimalist composition and well-defined close-up shootings (much credit due to Sven Nykvist), Ingmar Bergman's Persona is one of the best psychological thrillers in the history of cinema. In this complex depiction of human identity, frailty and cruelty, Bibi Andersson is Alma, the nurse who is hired to take care of famous actress Elisabet (Liv Ullmann) after she stops speaking during a performance. They are secluded at the physician's island house and their identities merge – the hint is in the very title of the film, "Persona", in singular. Who pays attention to fashion with such an intriguing plot? Well, I do. Because Bibi Andersson's style in Persona deserves recognition, too. Her pixie cut, sun hats, black dresses and bold sunglasses are mainstays of timeless, modern fashion. But, if we are to look at Alma with her sunglasses on, she looks as if she seeks protection against Elisabet… or is it against herself?
Marcello Mastroianni in La dolce vita, 1960
Marcello Mastroianni's shades in La dolce vita may not be as lauded as those in 8 1/2, but it is in this film that they take on their own role, as they are used by the main character (who wears them anytime, even at night, and everywhere, including indoors) to evade looks; they are an anti-conversation piece, having the ability to shut people out. His formal clothing is his armour; dressed in slim tailored suits, with his Persol shades on, Marcello Rubini stands in the shadow, detached and observant.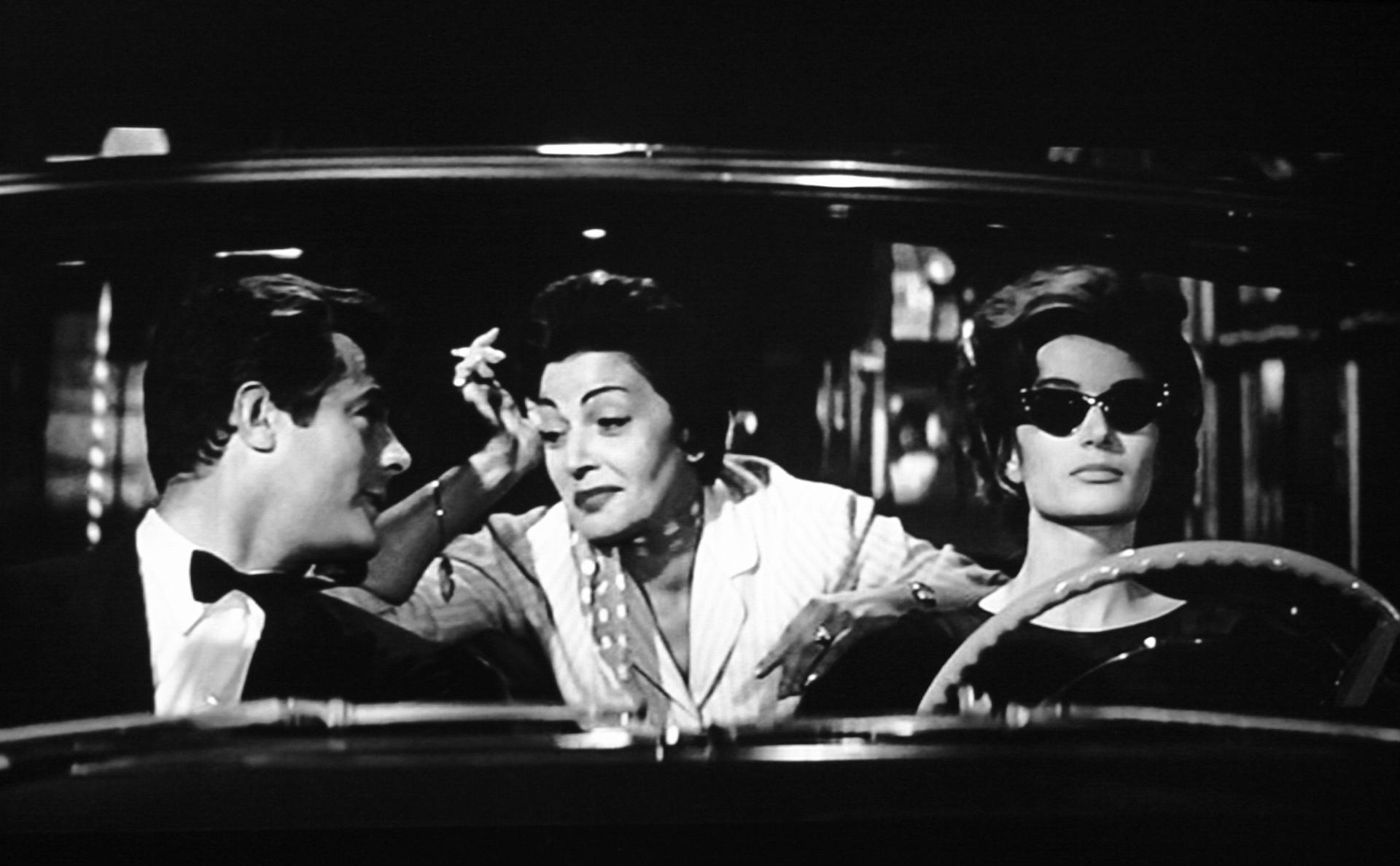 Anouk Aimée in La Dolce Vita, 1960
As wealthy playgirl Maddalena in La Dolce Vita, Anouk Aimée is Mastroianni's equal in terms of both elegance and moral depravity. Her sophisticated wardrobe seems to embody the best of 1950s and 1960s fashion, glamourous and modern at the same time. Her fabulous cat-eye shades, which she, just like Mastroianni's Rubini, wears even at night ("Everything is wrong tonight"… "I'd like to hide, but never manage it … Rome is such a bore … I need an entirely new life."), inspired Tom Ford to create his retro-looking cat's eye sunglasses which he called "Anouk". Anouk Aimée drifts through La Dolce Vita with the hauteur of a feline.
Anouk Aimée in Model Shop, 1969
The first appearance of director Jacques Demy's Lola character was in his film of the same name, from 1961. Anouk Aimée reprised Lola again eight years later in Model Shop. The story takes place in Los Angeles, where Lola is working her way to getting a train ticket back to Paris. Emotionally hurt, Lola goes through her life with detachment, and, behind her sunglasses, she keeps life at a distance. The practical role of the shades isn't elusive, though: they keep the beautiful but punishing LA sunlight at bay. But it's consistently clear that this is Los Angeles that Demy loved (just as he loved Old Hollywood), even when Lola is first seen enveloped in white, walking across a pay-by-the-hour asphalt parking lot.
Jean Seberg in À bout de souffle, 1960
The film which set off La Nouvelle Vague, one of the most important cinematic movements in the world, Jean-Luc Godard's Breathless also became revered for its fashion, which beguiles international audiences to this day. Jean Seberg's heroine, with her iconic haircut, cat-eye make-up, mirrored cat-eye sunglasses and a wardrobe packed with sailor stripes (probably her own clothes), captured, like so many other heroines in French New Wave films, the life of the young in Paris, from the fashion and life of the urban professional, to the carefree minds and the spirit of youth.
Steve McQueen in The Thomas Crown Affair, 1968
The tortoise-shell folding Persols, complete with blue-tinted lenses, that Steve McQueen were in The Thomas Crown Affair are just as famous as his three-piece suit, the most revered three-piece suit in film history. A thing of beauty, for sure, but I doubt they would have attained cool status and become legendary if it weren't for Steve McQueen. He had this innate quality of projecting an air of cool on everything he wore. McQueen was a fan of Persol sunglasses and owned a personal collection. The Italian brand celebrated the actor by re-launching the model a few years ago in a limited edition.
Audrey Hepburn in Breakfast at Tiffany's, 1961
The more time passes, the more I realise the many different things I like about Breakfast at Tiffany's. The fact that Audrey was cast against type and yet delivered a very funny performance. The fact that she humourously admitted that she knew she could be a stylish Holly Golightly, even if that was the only thing she could contribute to her character. The fact that she isn't afraid to wear the same dress over and over again and that she wears a men's double-cuff dress shirt as night gown. The fact that she hails for the cab. The fact that her glamorous, mysterious, forever modern Oliver Goldsmiths are the accomplice she uses to hide her true expression and conceal her real feelings (and lost nights).
Clint Eastwood in Dirty Harry, 1971
Eastwood takes the regular idea of "cop" glasses and reinvents it altogether. I will leave the "punk" line out, but these are some death-stare-inducing shades, you have to admit. He is a street-smart detective, and I like that his Ray-Ban Baloramas say the exact opposite. They seem calm and collected. The attraction of opposites surely works in this case. Steve McQueen may remain the best-dressed lieutenant to have ever hit the streets of San Francisco (in Bullitt), but Clint out-grades him out in the shades department. Sorry, Steve.
Susan Sarandon and Geena Davis in Thelma and Louise, 1991
Few other female characters have come to embody free spirit and fearlessness in being yourself. And maybe Susan Sarandon and Geena Davis would have rocked any pair of sunglasses they had put on in Thelma and Louise, but that's the most beautiful part. The shades Louise is wearing in the beginning – classic, even a little retro in fact – may be the coolest ever just because she wears them. What's more interesting is that even when her character evolves (see all three images above) and she changes her look, her clothes, her life and her self, she keeps the sunglasses. Even when she switches to a pair of Aviators, Louise still wears the cat-eye piece, hung on her white tank top. And Thelma gets to wear them, too, but not until she has reached her natural, beautifully simple, mythical look.
Robert Redford in Little Fauss and Big Halsy, 1970
Okay, there is one exception to the 'good film' factor. Robert Redford seems to have worn a pair of great sunglasses in just about every movie he's made, from Downhill Racer to Three Days of the Condor, both very good films, but the one I associate the most with the actor's rugged, perfectly weathered, all-American double denim look is the one from Little Fauss and Big Halsy, which, let's be honest, is an easily forgettable film. But only good things can be said about those Aviator shades, as much a part of being an American as blue jeans, especially this American, and by that I mean the actor, as well as the character.
Jane Fonda in Klute, 1971
There are many films from the '70s that depict the decade's fashion well, but the one I always tend to think of is Klute. And it's all the more interesting as most of the clothes Jane Fonda wore in the movie were reportedly her own. It's probably this sense of reality that I appreciate. I don't know if the sunglasses were Jane's as well, but they are oversized, with fading lenses, very much a product of the '70s (without looking like a replica of the past) and kind of unlikely to be used undercover, which makes them perfect for the job.
Tilda Swinton in Only Lovers Left Alive, 2014
Could Tilda Swinton be the coolest actress of the modern day, with the coolest movie style?
It seems that, lately, every time I write about fashion in film, I mention one of her movies. In Jim Jarmusch's Only Lovers Left Alive (I seem to mention this one the most, but only because it may be one of my favourite films of the decade), her character, Eve, is a centuries-old vampire. Her Wayfarers, the classics of classics, are timeless, too. Her clothes needed to be without a specific period and to have simple and clean lines, because "they [Eve and Adam, her husband] had already lived all the fantasies they could live", according to costume designer Bina Daigeler in an interview for The Cut magazine. The sunglasses are equally simple and protective, shielding Eve and Adam (Tom Hiddleston) from the outside world, the decaying world of the 21st century.
Kelly McGillis and Tom Cruise in Top Gun, 1986
The Ray-Ban Aviator sunglasses have a place of their own in Top Gun, never failing to evoke the tough guy appeal. There is probably no other accessory which had this kind of rebirth thanks to a movie appearance. In Top Gun, the Aviators are the ultimate matchmaker of function and form. Not only that, but the shades (Charlie's square frames perfectly complementing Maverick's teardrop style) diffuse the romantic tension simmering between the two. And I will say it again – Kelly McGillis' film wardrobe remains one of my favourites in the history of cinema. So simple, so accurate, so enduring. As Jessica Read, the daughter of the film's costume designer, Bobbie Read, was nice enough to write to me, it made her proud to discover there are people who appreciate her mother's work and who acknowledge the timelessness of this style. I take it as my duty to do so.
photos: movie stills from: 1-A Bigger Splash (StudioCanal) / 2-North by Northwest (MGM) / 3-Leave Her to Heaven (Twentieth Century Fox) / 4-The Two Faces of January ( StudioCanal) / 5-Catch Me If You Can (DreamWorks) / 6-Persona (Svensk Filmindustri) / 7,8-La Dolce Vita (Riama Film) / 9-Model Shop (Columbia Pictures) / 10-Breathless (SNC) / 11-The Thomas Crown Affair (Mirisch Corporation) / 12-Breakfast at Tiffany's ( Jurow-Shepherd) / 13-Dirty Harry (Warner Brothers/Malpaso Production) / 14,15,16- Thelma and Louise (Pathe Entertainment) / 17-Little Fauss and Big Halsy (Paramount Pictures) / 18-Klute (Warner Brothers) / 19-Only Lovers Left Alive (Recorded Pictures Company/Pandora Filmproduktion/Snow Wolf Filmproduktion) / 20-Top Gun (Paramount Pictures)
This content is published courtesy of classiq.me