Long before the box office submitted to the inevitable adaptation of E. L. James' mummy porn juggernaut, another altogether more fascinating Mr Grey indulged in a spot of big screen sadomasochism.
It helps that the Mr Grey of Steven Shainberg's Secretary (2002) is played by the jittery genius that is James Spader, whose career has been mottled with sexually dysfunctional types, from his impotent voyeur in Sex, Lies and Videotape (1989) to his character's penchant for amputees in Crash (1996).
His is the perfect casting for the eccentric attorney; E. Edward Grey is an obsessive-compulsive misfit who finds his soul mate in Maggie Gyllenhaal's equally damaged Lee. Fresh out of a psychiatric hospital following a long period of self-harm, Lee soon returns to her masochistic ways in the miserable company of her hard-drinking father and meek, downtrodden mother. She responds to a job advert for a secretary at Grey's low-rent office (an oft-sought vacancy, presumably, due to the illuminated sign out front) and the pair slowly attune to each other's wavelength, which just happens to involve acts of BDSM.
Before flashing back six months to her leaving hospital, the film's prologue features Lee in bondage performing menial office tasks. The sight of Lee stapling paper using her chin and fixing up a cup of coffee with her arms bound to a pole is treated matter-of-factly but nevertheless threatens the prospect of a nudge-nudge sex comedy (the misjudged poster also doesn't help).
But Shainberg wisely avoids the trap of winking at the audience or going over-the-top thanks to a script that treats its characters with a tenderness and understanding they have been longing for all their lives and finally find with each other.
The Red (actually purple) Riding Hood cloak which the wide-eyed Lee wears when she first enters what we assume is the wolf's lair of Grey's office is nicely subverted when we see him frantically checking his hair, asking awkward, inappropriate questions of his would-be employee and revealing his carefully manicured orchids; a none-too-subtle symbol of his own fragility.
The film is careful not to rush what is a complex relationship; their guarded fascination with each other is signalled by lascivious glances that suddenly explode into something more extreme as Grey's dominant demands for perfection from the wilfully submissive Lee play out in increasingly intense ways. This extends beyond the office, to the extent whereby he instructs her on how many peas to put on her plate, to the bafflement of her family.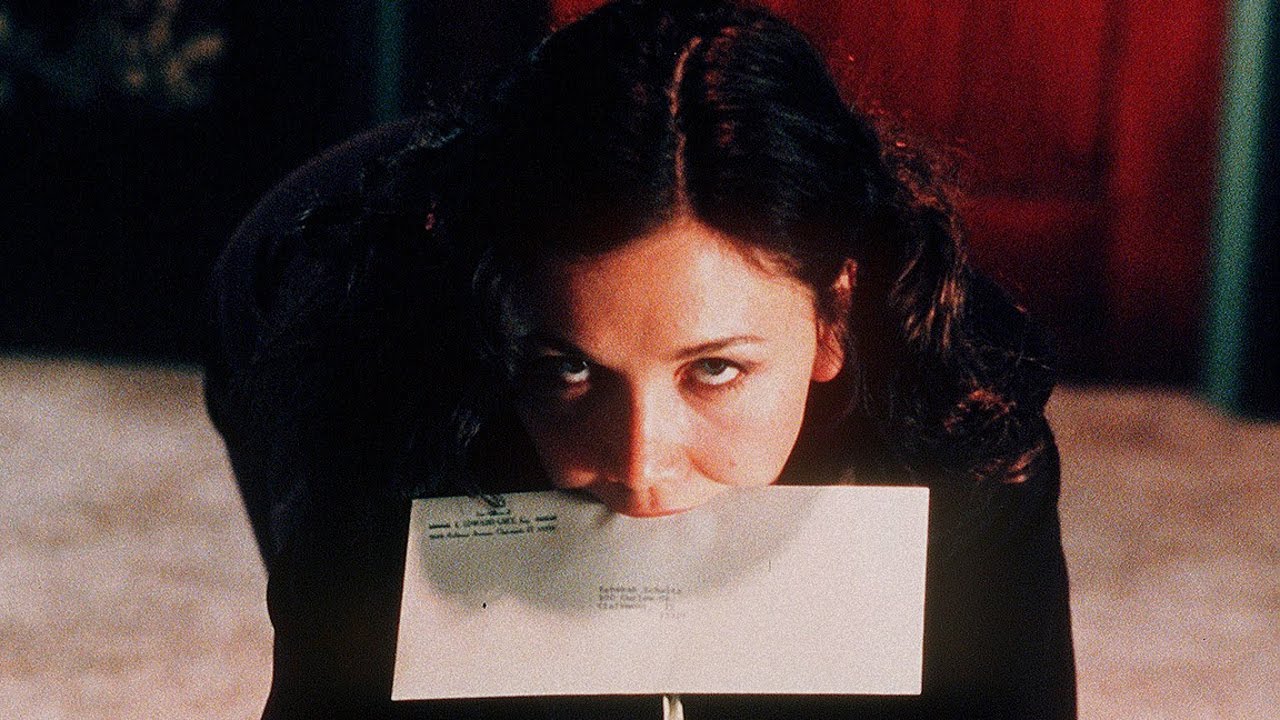 There are other nice touches, particularly between Lee and timid childhood friend Peter (Jeremy Davies), with whom she falls into a relationship, to the delight of their parents. Lee's frustration with the unassuming Peter is palpable, while the look on her face when she spies his picture during a masturbatory fantasy about her boss is priceless.
In a breakout performance, Gyllenhaal takes Lee on an involving journey from a child-like waif controlled by her illness to someone who knows what – and who – she wants and is more than prepared to do what is necessary to get it.
Spader, who reportedly adopted the same hot/cold demeanour with Gyllenhaal off set as Grey has with Lee, is typically hypnotic; all slow, hushed tones and coiled mannerisms erupting into moments of sexual expression that appear to surprise and thrill him in equal measure.
A film that doesn't allow itself to be dominated by its subject matter, Secretary is a sweet and gentle romance between kindred spirits, albeit one with an off-kilter and subversive outlook.