Few images more powerfully evoke the stark reality of 21st Century city survival than the Sisyphean struggle of Pakistani immigrant Ahmad dragging his cart along the indifferent Manhattan streets in Rahim Bahrani's mournfully poetic debut feature.
It's an image Bahrani revisits throughout the extraordinary Man Push Cart (2005) as Ahmad (Ahmad Razvi) toils away day in and day out selling coffee and bagels from his push cart in the hope of affording a place in which he can live with his estranged son.
Bahrani isn't interested in lecturing us about the plight of Asian immigrants in post 9/11 America or wailing against the world's injustices; instead he casts a soft light on the invisible people who eke out a living on the fringes of first world society with a quiet dignity befitting of his protagonist.
The Iranian-American director spent a year getting to know Razvi, who had been working as a push cart vendor for some time, before approaching him to star in their respective first features. The mutual trust that clearly developed over time reaps its reward as both director and actor mirror each other in their approach and let the natural drama of each scene play out.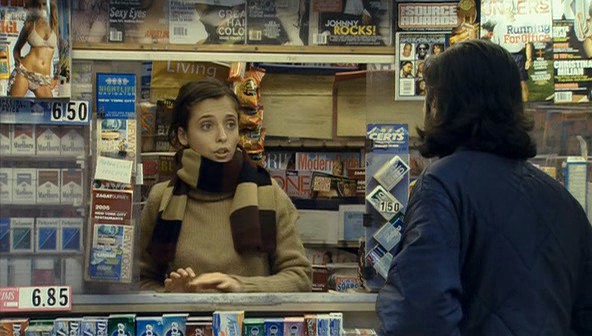 Ahmad, we come to learn, is a former rock star in his native Pakistan living in the shadow of a recent tragedy that has left him grief-stricken and struggling to hold onto even the smallest dream. His life seemingly takes an upward turn when he forms a connection with young Spanish immigrant Noemi (Leticia Dolera) and befriends wealthy Pakistani businessman Mohammad (Charles Daniel Sandoval), who recognises Ahmad from his days as a minor celebrity and makes promises about getting him back in show business. However, in spite of the better life each option potentially presents, his past won't let go that easily.
Bahrani uses a tight focus to reflect the lack of options Ahmad faces and adopts an unshowy, documentary-style approach that befits the performances. The shadows of Ken Loach and Robert Bresson fall over the film (Bresson's Pickpocket (1959) has been cited as an influence), while Ahmad's quiet desperation reflects that of Antonio Ricci's tragic protagonist in Vittorio De Sica's neo-realist classic Bicycle Thieves (1948). Ahmad sees the cart as a means of escape from the desperate situation he finds himself in, although it's difficult to get away from the impression that it more closely resembles a millstone that's slowly dragging him further down.
Man Push Cart remains an important milestone from a turbulent decade and marked Bahrani out as a unique and exciting new voice in American cinema whom the late Roger Ebert hailed as "the new great American director". In the end, it's that evocative image of Ahmad pulling his cart that lingers longest in the mind. Ahmad is our everyman, and his struggle is universal.