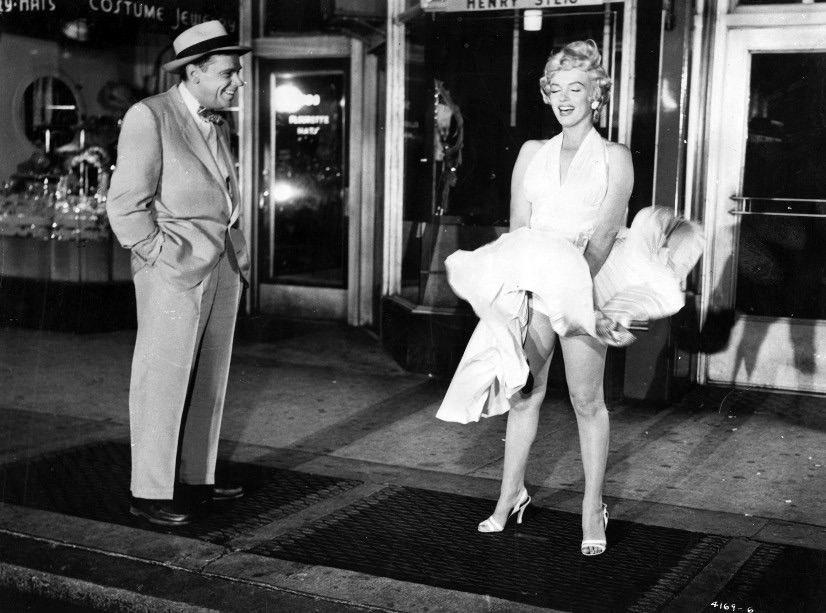 When Marilyn Monroe leaves the screen, so does our interest. Toned down from its Broadway origins thanks to the Hollywood Production Code, The Seven Year Itch still manages to be a good comedy – largely due to Marilyn. And it's not only thanks to her apotheosis-of-sex-appeal look and that particular iconic scene – Marilyn standing over a subway gate as the breeze blows her skirt up – as transcendent as that dress and that moment may be. No. It's also because Marilyn proves herself a fine comedic actress (and "a piece of history, as much part of our culture as the famous portrait of her by Andy Warhol", as Paola Saltari rightfully acknowledges), an aspect often overshadowed by her sex symbol image. She is very good, downright funny, and, yes, completely irresistible.
This summer marks the 60th anniversary of The Seven Year Itch, Billy Wilder's film adaptation of George Axelrod's play, which follows a middle-aged husband – left alone for the summer while his wife and son are vacationing in Maine – and the girl in the apartment upstairs. The husband is Tom Ewell, reprising his role from the play, and the girl is Marilyn Monroe. But in the screen version, the husband is no longer a conflicted adulterer, effectively being neutered to appease the Hays Code. This made it necessary to swap the play's actual affair for a fantasy one, the product of the male character's vivid imagination, and a harmless flirtation (plus the necessary Hollywood happy ending). Herein lies the movie's big shortcoming.
"A nothing picture", the director himself would name it later, claiming he wished he had never made it under such moral restrictions. I wouldn't go that far, because Wilder was a witty director and he was still able to deliver plenty of funny moments – the sequence where Ewell's Richard Sherman is playing From Here to Eternity on the beach with his wife's best friend is bound to steal some laughs, even though it's just another fantasy. To be honest, I do enjoy the movie as it is, for what it is, and it's become an essential summer movie in our home. But the outcome is certainly not nearly as good as it might have been, had Wilder been granted complete freedom. Not only were a lot of funny lines and some depth of plot lost, but frankly, it strains credulity, begging the question: How can this plain little man resist giving in to one of the most desirable women in history?
Studio executive Darryl Zanuck wouldn't consider anyone but Monroe for the part: "In spite of the enormous success of this play on the stage, it would not be, in my opinion, 50 percent of the picture it will be with Marilyn Monroe. She is an absolute must for the story." Tempting, but innocent, casually confessing to her neighbour that she keeps her undies in the fridge to beat the summer heat. I laugh with tears every single time I hear that line. And, really, could you get the same effect from anyone but Monroe?
But let's talk about the wardrobe – it is, after all, an intrinsic part of Marilyn's evocative screen presence. "I've always felt at ease when I looked unequivocally feminine", the actress used to say. A wardrobe of flattering, mostly angelic white dresses for a sweltering hot New York summer, but that reveal enough of the wearer's fantastic figure. The costume designer was William Travilla, who is famous for his body-hugging creations and who also worked with Marilyn on Gentlemen Prefer Blondes, How to Marry A Millionaire and five other films. And there are indeed a couple of form-fitting dresses in our leading lady's wardrobe, including a beautiful, incredibly modern white sequined number, which would hold court on any catwalk today. There is also the striking "Tiger" dress that appears in a fantasy sequence (the husband always imagines giving in to the animal magnetism that he incites in other women), when The Girl visits Richard's apartment and falls under his spell as he plays Rachmaninoff's 2nd Piano Concerto for her. Woken up back to reality, Richard finds Marilyn looking innocent, in pale pink trousers and matching belted blouse. That was the wit of Billy Wilder.
As natural fabric would not hold pleats, Travilla used a fabric with a percentage of man-made fibres, rayon-acetate crepe, heavy enough to flow as she walks, and light enough to blow upwards. The sandals were nude. She usually wore flesh-coloured footwear, because that made it look like she was barefoot – her sex symbol image was very much a conscious decision.
But, of course, it's the ivory halter neck dress with accordion-pleated skirt that has made fashion and movie history, the dress that secured Monroe's status as the ultimate Hollywood star. Grecian-style, with a distinctively 1950s twist, it was "cool and clean, in a dirty, dirty city", as the designer would say, as he wanted Marilyn to look "fresh and clean… talcum powdered and adorable". Deborah Nadoolman Landis, professor of costume design at UCLA in California, said: "The dress captured Monroe with all her contradictions – naïve and calculating, vulnerable and courageous. Wilder created a comedic and sexy scene that became the lasting image of Marilyn Monroe."
This was Travilla's favourite creation and would eventually be available to buy off the rack from his own fashion line in the 1980s. Marilyn flew into New York City for location shooting and Roy Craft, her PR, recalled that "the Russians could have invaded Manhattan and nobody would have taken notice", such was the Marilyn fever in town. The subway scene was shot on Lexington Avenue at 52nd in Manhattan, as "a crowd of 1,500 fans whistled and cheered as the full expanse of Monroe's legs and ruffled white panties came into view. Once they booed, but that was because a sixty-foot trailer truck lumbered by and temporarily blocked the view". The dress scene actually had to be re-shot on the 20th Century Fox film lot in Hollywood (and 40 takes later it was forever captured on film), as the crowd on Lexington Avenue had made too much noise. Nobody could remain objective to Marilyn, and nor can we, to her, or to this film.
The white terry cloth bathrobe also became iconic. It was the juxtaposition of seductive and angelic, that very personal quality that was behind Marilyn's magnetism, regardless of her outfit. Whatever she wore, she was a star.
Bibliography: Classic Hollywood Style, by Caroline Young; A Matter of Style: Intimate Portraits of 10 Women Who Changed Fashion, by Paola Saltar
This content is published courtesy of classiq.me © 2015