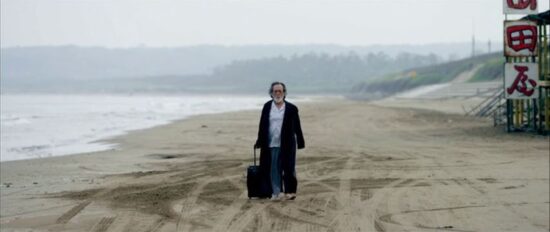 A beach at the seaside is the main location in Masahiro Kobayashi's Lear on the Shore (Umibe no Ria, 2017) and the key setting for a number of dramatic encounters. The former actor Chokitsu Kuwabatake (Tatsuya Nakadai), dressed in pyjamas and a long woollen coat and pulling a suitcase behind him, walks along the beach and is successively joined by his younger daughter Nobuko (Haru Kuroki) and Yukio (Hiroshi Abe) – the husband of his older daughter, Yukiko (Mieko Harada) – who have both been looking for him since he ran away from a luxury retirement home.
The otherwise empty beach is transformed into a stage on which lives collide and where jealousy, betrayal and rivalries within Kuwabatake's family are revealed. Yukiko was once her father's agent, but motivated by ambition and greed, she has gradually taken control over his life. Her husband, a former student of Kuwabatake's (here there is perhaps a reference to Nakadai himself, who founded his own theatre and acting school, Mumei-juku – the School for the Nameless – in the 1970s), has helped her to rid herself of all responsibility for the old man, who, no longer a celebrity, had become a burden on Yukiko. It was also Yukiko who threw her half-sister Nobuko – the daughter Kuwabatake had with his mistress – out of the family home when she became pregnant.
Themes such as greed and obsession with power, and the motif of broken bonds between a father and his children, underline the film's affinity with Shakespeare's King Lear, but in the film there are only two daughters and not three. Kuwabatake frequently recites passages from Shakespeare's tragedy, establishing a direct link between the play and the film. Not unlike Lear in the play, Kuwabatake is depicted as a selfish man who trusted the wrong people, who then betrayed him. His journey on foot along the shore is reminiscent of Lear's wandering on the heath. In Shakespeare's play, Lear shows signs of senility. Kobayashi's protagonist suffers from dementia. He lives in a world of his own in which the past is blurred and in which present-day reality and the roles he played in the past start to merge. His mental confusion is revealed when he mistakes Yukiko for his late wife or when – in another reference to Shakespeare's play – he calls Nobuko "Cordelia".
The beach is transformed into a stage on which the family's tragedy is played out. The human figures are filmed in long takes and in long sequences without much action that include several monologues delivered by Kuwabatake. The use of the telephoto lens is reminiscent of Akira Kurosawa's film style. Despite the frequent long shots, there are many enclosures that reveal just how much the characters are prisoners of their attitudes: Kuwabatake and Nobuko talking to each other in front of wooden stakes, Kuwabatake, Nobuko and Yukio sitting in Yukio's car, Kuwabatake standing in front of the retirement home or emerging from a tunnel on a road in the countryside.
The beach as a stage is also a reminder that Tatsuya Nakadai himself has not only been a famous figure of Japanese cinema since the 1950s but is also a renowned stage actor and continues to work for both film and theatre. The references to King Lear create an intertextual link in Nakadai's acting career, since he was cast as the main figure in Akira Kurosawa's Ran (1986), a film that bears many resemblances to Shakespeare's play. A direct link to Nakadai's exceptional and long career as an actor is created when, not recognizing Nobuko, he tells her that his name is Kuwabatake and proudly states:  "It was with me long before Mr. Mifune acted in Yojimbo as a character with my last name." In Kurosawa's Yojimbo (1961), the ronin played by Toshiro Mifune does indeed call himself Kuwabatake, a word that means "mulberry field". And it was Nakadai who played Mifune's adversary in this groundbreaking sword-fighting film.
Remembrances – including remembrances of film history – are juxtaposed with the theme of memory loss. Being confronted with the old man's illness forces Nobuko and Yukio to come to terms with themselves too and to face the past and their feelings of guilt. Nobuko's suppressed anger at her father, who did nothing to prevent her sister from throwing her out of the family home, gives vent to her frustration in verbal and physical violence; she shouts at Kuwabatake and throws a bottle at him. In the first part of the film, she seems unable to cope with the old man's illness, but she realizes that just as he once abandoned her, he has now abandoned himself. Torn between hatred and filial love, she is appalled by the behaviour of her half-sister, who has put the helpless man in a retirement home against his will.
In contrast to his wife, who declares cold-heartedly that she wishes her father dead, Yukio expresses regret about his father-in-law's mental state, having admired him when he was his student. Yukio admits that he has sacrificed his ideals for power and money; however, his selfish attitude has remained and he obviously has a bad conscience, his excuse being that he has been manipulated by his wife. His hysterical laugh – almost a scream – is a clear sign that he is not being honest when he says that he "had no choice" but to take Kuwabatake back to the retirement home.
In long monologues, Kuwabatake relives moments from his past, including his childhood. He recites from King Lear, and at the end of one of the monologues, he bows to an imaginary audience. His alienation from the present and what is happening around him is revealed by the mise en scène in the sequences in Yukio's car, parked at the beach. Yukio and Nobuko in the front seats are talking, while the old man in the back seat is enjoying his lunch with huge smiles, oblivious to his immediate environment. Nakadai's flawless performance is an emotional tour de force. He shouts, screams, laughs, makes inarticulate noises or whimpers like a child. Kuwabakate's movements are abrupt and aggressive, and his sudden changes of mood – a symptom of his illness – are marvellously captured by Nakadai's perfect sense of timing. In a close-up of his face while he is laughing, his wandering gaze reveals that he does not really know where he is or who he is talking to.
In his highly accomplished acting, Nakadai brings to life an old man who, despite his age and failing mental powers, still possesses an untamed strength and is enclosed in an aura of majesty. Kuwabatake went to the beach to find a new audience and is still able to recall and deliver long monologues from King Lear. He recalls Yukiko's greed and her betrayal, but this does not break his rebellious spirit, and when she leaves him in front of the retirement home, he heads back towards the beach, happily singing "Auld Lang Syne". This song about longstanding friendship and good old times, a song that is also popular in Japan, hints again at the theme of remembrance, a theme which is at the core of Kobayashi's film. Addressing his imaginary audience, Kuwabatake states that he does not need his memory as long as he is remembered by his audiences.
His happy mood vanishes when he reaches the beach and starts reciting from act five of King Lear (Lear and Cordelia in prison with Lear cradling his dead daughter in his arms), searching desperately for his "Cordelia". Set against the background of the open sea and thus associated with water – an element of purification as well as a symbol of evanescence – Kuwabatake, in his disturbed state, expresses his innermost feelings, his longings and regrets. Suddenly – overcome by weakness and grief – he stumbles and falls into the water face down. He is saved from drowning by Nobuko, who has mysteriously reappeared after being shown in a previous sequence walking into the sea as if to commit suicide (recalling another Shakespearean character: Ophelia). The final shots are of Kuwabatake, soaked to the skin and leaning on his daughter's shoulder in an image of tender feelings and reconciliation from which – even if decay and death are not banned – hope nevertheless emanates.