'I Like to watch.'
So says simpleton Chance the gardener (Peter Sellers) in Hal Ashby's filmed version of Jerzy Kosiński's novel 'Being There'; a story about the improbable rise of a holy fool from lone obscurity to vaunted celebrity through a series of fortuitous 'chance' events.
Skewering the hollowness of political rhetoric, racial entitlement and the cult of celebrity in an age of media saturation, Being There positions Chance as both a character that embodies an increasingly dumbed down generation and the ultimate attainment of The American Dream – albeit a distinctly white one.
But the film is also about the power of influence, and there's nothing that represents this idea more than Chance's TV remote control.
We first meet Chance as he wakes up in a tastefully elegant bedroom, his yellow silk pyjamas suggesting a man of wealth and good taste. He's woken up to the flickering of a television set, and we quickly realise that there's an air of child-like innocence to Chance as he goes about the simple routines of brushing his hair, watering plants and tending to various chores around the house. Chance it turns out is the property owner's resident gardener and has been there since childhood, learning all about the outside world through a constant stream of television shows and commercials.
The tranquility of this eden-like existence will soon be disrupted however as the owner dies and Chance, along with housekeeper/nursemaid Louise (Ruth Attaway), must vacate the house and fend for themselves. Chance takes his tentative firsts steps onto the daunting city streets of Washington D.C. armed only with an umbrella, suitcase and his trusty remote control.
When he comes across a streetwise gang of kids who mistake him for a rival gang's messenger 'boy' intent on causing trouble, Chance attempts to use his device to change the channel, oblivious to the fact that events in real life aren't as easy to control.
It's the first of many mistaken identitites that present one of the film's key through-lines as various people misread Chance by virtue of his smart appearance, affected accent and seemingly haughty demeanour. As a blank slate with virtually no volition of his own, Chance reflects back to others what they choose to see. In other words Chance is what everyone wants him to be.
This disconnect between perception and reality is what sets Chance on a path of influence, when he is backed into by billionaire businessman and kingmaker Ben Rand's (Melvyn Douglas) car while looking at himself on a TV screen in a shop window. The scene foreshadows what's to come as the TV sets are framed by a backdrop of the earth as seen from space, and his remote control inexplicably manages to change the channels. Chance will literally have the world at his feet in a matter of days as he is first encouraged to recuperate at the Rand residence by Ben's wife Eve (Shirley MacLaine), quickly gains Ben's favour and confidence, and through him that of his close friend President 'Bobby' (Jack Warden) when his remarks about the importance of tending to a garden are misconstrued as deep metaphors about the state of the nation's economy.
Chance – now known as Chauncey Gardener due to another moment of misunderstanding – will soon become a TV sensation once word gets out of his close personal association to Rand and the revelation that a speech given by the president to regain public confidence simply echoes Chance's 'wise' proclamations.
The world's eyes and ears thus become firmly fixed on a dim-witted nobody brought up on a diet of television who simply 'likes to watch' – yet we see Chance's remote control less while the film progresses as he goes from passive observer to active change-maker, suggesting perhaps that Chance himself has become the remote control; exerting such powerful influence on us because we too like to watch.
A year after the film's release Ronald Reagan would be in power; a former actor who knew the importance of a screen image, the value of simple sloganeering and the power of a snappy sound-bite.
Now over 40 years later, as we move rapidly towards total media saturation with personalised devices spewing an endless stream of content, the 'off' switch seems harder to locate than ever.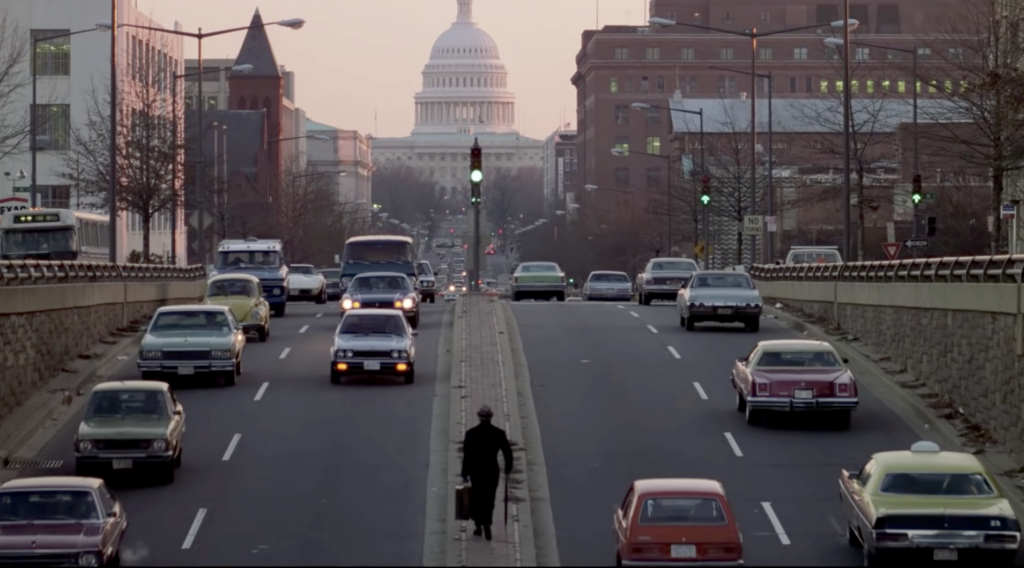 Being There is available from The Criterion Collection