Perhaps most notable for its existence as the first (and finest?) adaptation of Richard Matheson's I Am Legend and an early example of survival horror, The Last Man on Earth begins under more innocuous circumstances. Sunrise over a cluster of pretty tenement buildings; the calm, empty streets of some wistful European city that suggest in their absence of people the stirring of a weekend or public holiday. Then, slumped bodies, littered here and there about the quiet streets and among the immaculately preserved shells of automobiles, similarly abandoned of life; jutting limbs and car doors alike bent out at crude angles to their now uninhabited bodies.
It is this setting, filmed in and around Rome's EUR district, that makes The Last Man on Earth so effective in what it sets out to do: that is, to present an image of serenity that has been rudely fractured, replacing vibrancy and order with desolation and extinction. The wide open expanses of asphalt, ceremoniously lined with rows of cypress trees and dominated with modernist architecture that looms over all, like long-forgotten elements of some advanced society.
It is the same unearthly scenery that Michelangelo Antonioni so gloriously captured in L'Eclisse two years earlier, his camera tracking not a horribly miscast Vincent Price but the beautiful Monica Vitti, stumbling across a landscape that reflects her own inner feelings of alienation and loneliness (shown at the bottom of this article for comparison). A closing sequence that appears to eerily presage the opening sequence here, as though one film bleeds into the other.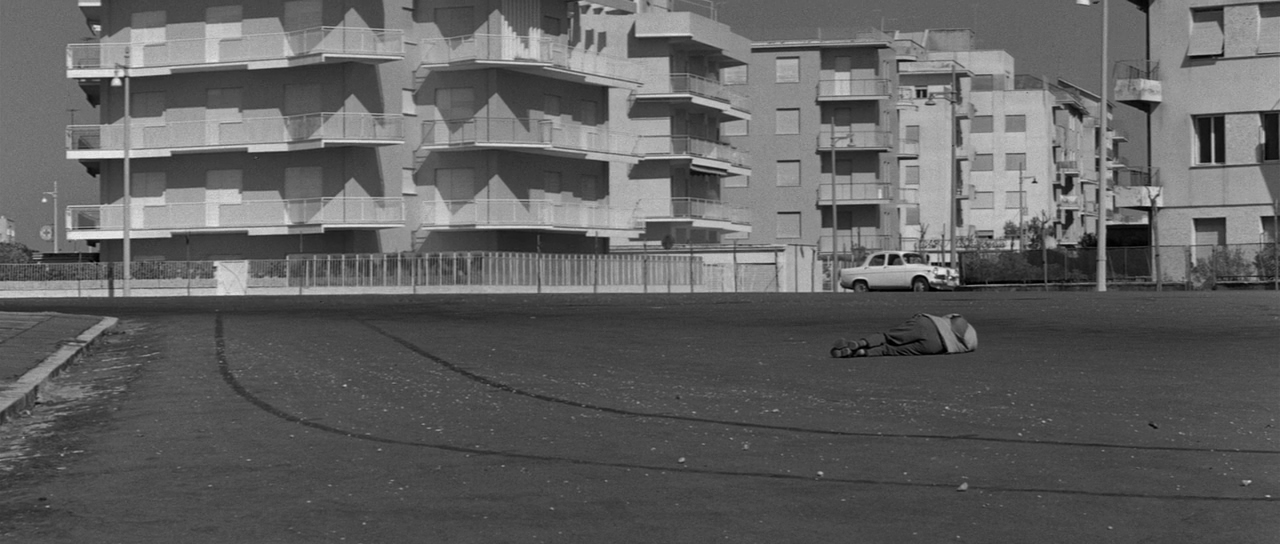 Shown here are a few images taken from the evocative opening sequence of The Last Man on Earth, which is largely composed of static shots or else slight horizontal pans so as to capture the entire panorama. The film starts by showing apartment buildings that suggest habitation, with the sun apparently just rising so as to justify the notable lack of activity and noise. Then you have our first two images, which dwell not on buildings but on roads – another feature of the urban landscape from which we can gauge the current level of activity, with just a glance at the traffic. The idea of a car parked at an odd angle and with the doors open suggests some kind of trouble, and the second image only drives this home with a huge skid mark on the road and prone body lying on its side. A traffic accident, perhaps?
We then move on to two of Rome's more iconic pieces of contemporary architecture: the Palazzo della Civiltà Italiana or "Square Colosseum", in the shadow of which we first see Vincent Price picking his way among the bodies. Then, the striking Fungo or "Mushroom" tower, which started life as a water tower but is now employed as a revolving restaurant. Truly, a stunning piece of modernist architecture that seems to defy place and time. The same tower can also be seen in Antonioni's L'Eclisse, though from a different angle, but the effect is very much the same: a strange landscape filled with strange structures, evoking feelings of profound spiritual isolation.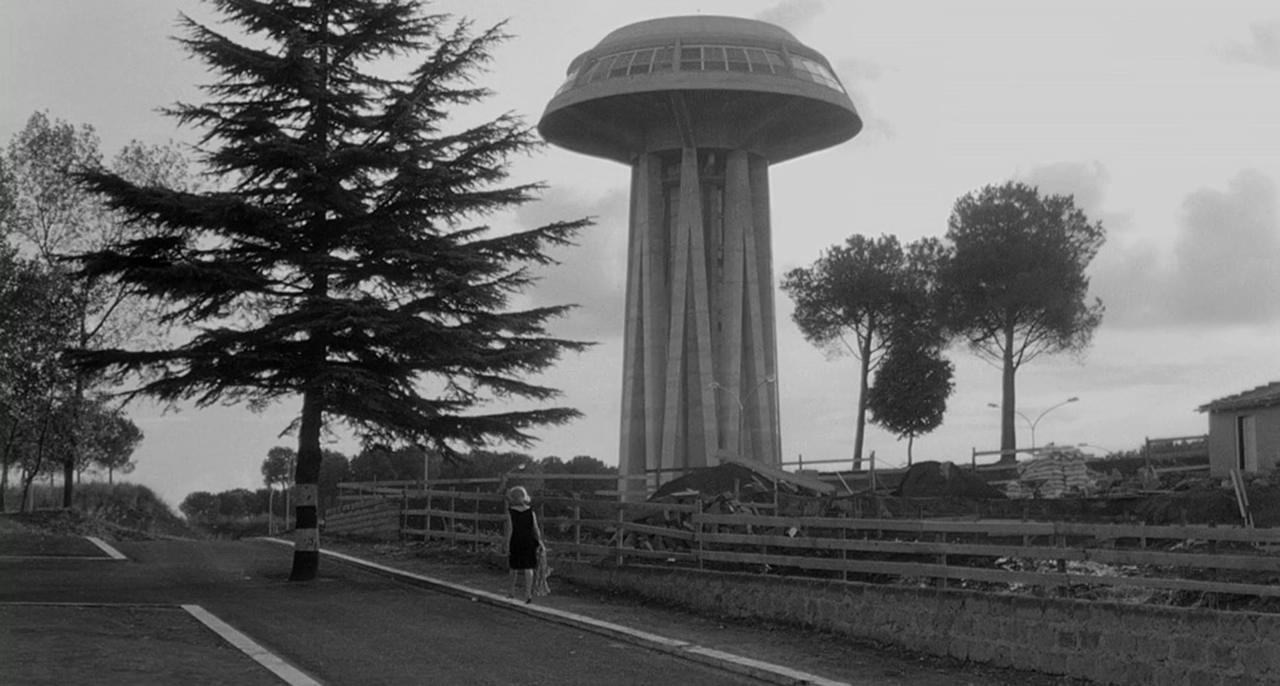 L'Eclisse (Michelangelo Antonioni, 1962)