Alexandra Heller-Nicholas books some time off, packs her camping gear and heads off on a horror holiday, but will she make it back alive?
The dream-holiday-gone-wrong is a staple horror trope: where would films like the Hostel or Wolf Creek franchises be without their legions of wide-eyed young people whose dreams of seeing the world are so brutally and reliably put to an end? From recent examples like Sightseers (2012) to The Cabin in the Woods (2012), Piranha 3D (2010) to Chernobyl Diaries (2012), and Turistas (2006) to The Ruins (2008), horror audiences have proven that the love of seeing holiday-seekers get a grim comeuppance for their innocent desire to get away from it all shows no signs of diminishing.
It therefore comes as little surprise that shrewd horror-loving entrepreneurs have extended this beloved trope into the realm of the real: well, almost real. Horror is renowned for its ability to pump adrenaline and get the nerves a-tingling, so it makes sound business sense apart from anything else that events are increasingly beginning to cater to these proudly perverse tastes. Research to verify that this is a viable market ripe for the proverbial picking need look no further than the anecdotal: has a horror fan ever gone camping and not compared it to the work-holiday-gone-bad classic The Blair Witch Project (1999)?

Even for those not on the West Coast of the United States, there has been much excitement online in recent months concerning the Great Horror Campout that sees paying customers lining up to experience an interactive overnight genre-inspired camping event. The first of the series was held in Los Angeles at the purportedly haunted Griffith Park Old Zoo, to the rave reviews of those who attended. Future events are planned for San Francisco, Sacramento, Seattle and Portland (to those of us with a teenage slasher film mind, the latter is held at the satisfyingly smutty sounding Beavercreek).
While the events organisers, Ten Thirty One, have guaranteed that campers will at no point risk any real danger, they emphasise that the Great Horror Campout is not for the faint hearted. Helmed by Melissa Carbone and Allison Richards, Ten Thirty One established a reputation for horror-themed events previously with the L.A. Halloween Haunted Hayride, and held their first campout event in 2013. In an interview with LA Weekly, Carbone said Ten Thirty One were looking at revitalising the horror attractions industry. "We're going to submerge you in a horror-themed camping adventure," says Carbone, promising horror fans that they are "not just taking another walk through a maze and sending a cattle line of people through."
Horror attractions of course have a long, rich and admittedly somewhat tacky tradition, particularly for those of us who recall trundling through antique ghost train rides as children and teenagers, scared as much by the smell of urine and disturbingly unreliable mechanics as we were by the mould-smelling foam rubber masks and reedy sounding witch cackles emitted through tin-can speakers. But today, horror themed holiday adventures are hardly rare, be it demonstrated through the reliably long queues outside the London Dungeon, or the fact that the Massachusetts house where the infamous Lizzie Borden murders took place is now a bed and breakfast.

Not all twisted, brave souls planning a horror holiday need journey to these same popular destinations, however. One of the most intriguing and weird destinations is Spookers, just outside of Auckland in New Zealand. According to their website, this haunted theme park is housed at the former Nurses hostel at the Kingseat Hospital in Karaka. With a reputation as one of New Zealand's most haunted locations, Spookers' surface scares stem from their things-that-go-bump-in-the-night approach, heightened by special effects that in many cases were designed by the legendary Weta Workshop who collaborated on Peter Jackson's iconic The Lord of the Rings trilogy. But the real frights come from the venue itself: Kingseat Hospital is an ex-psychiatric hospital, and when you pause to look beyond the chainsaw-weilding maniacs or creepy child-ghosts, the environment itself silently evokes a gut-churning fear even more than the Freddy Krueger-style startles.
For the more daring horror holidaymaker, there are a slew of unofficial sites that have proven reliably creepy for real world, genre-loving adventurers. Nara Dreamland, for instance, was a Japanese theme park inspired by Disneyland and built in 1961. Due to dwindling visitor numbers, it closed in 2006, but since then has become a site of fascination, as its now abandoned rides and monuments have been left to decay, overgrown with weeds. Something about such dramatic neglect of a scene of childhood fantasy has appealed greatly to the horror imagination, as illustrated by the many beautiful photographs and blogs dedicated to the once-active theme park (all undertaken, it seems, but unauthorised visitors).

Thanks to events like the Great Horror Campout, however, horror fans do not have to risk charges of breaking-and-entering to experiencing the jumps and starts of the movies first hand. The seeming success of the Great Horror Campout seems assured, with many online holding their breaths that the events will go international. Local events like the 2.8 Hours Later zombie survival chase game are a viable alternative for those of us who do not wish to travel too far from home to get our perverse horror thrills. And for the more daring amongst us, if Wolf Creek 2 is anything to go by there may be a more extreme option for your dream horror holiday: it doesn't look like Mick Taylor is going anywhere, if the Australian outback takes your fancy.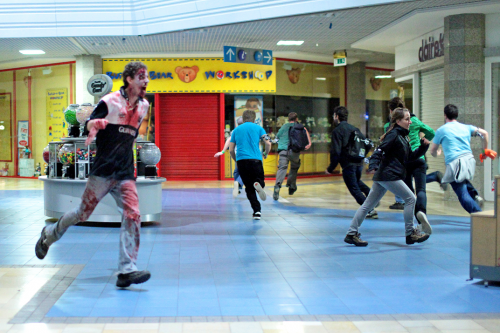 Go Further – Details of the Great Horror Campout