Cannes Film Festival's most powerful weapon has long been its ability to make or break a film. Before a radically changing film landscape dulled this potency, one of its victims was Sofia Coppola's third film, her deeply idiosyncratic portrait of Marie Antoinette.
In truth, the film never really recovered from the boos of riled French film critics that greeted its world premiere. They mansplained what the film should have been, proving that Coppola's depiction of pre-revolutionary France sadly echoes both the early '00s cinematic landscape, and global culture on the whole. It's not a film before its time (because that sentiment is problematic at best), but it is arguably a film before its moment, and all signs point to that moment being now.
Critics took umbrage with its approach, which was taken for disrespectful. In reality, is anything but. The film skewers the media and 'fake news', the pomposity of the monarchy and aristocracy, the ludicrousness of ever really knowing anyone in the public eye – and so the ultimate pointlessness of gazing upon them for answers and insight. The film also beautifully charts the erosion that can occur to the gazed upon. It's a savvy film that uses the offspring of Argento and Huston – alongside Coppola herself of course in the director's chair – to pick away at the complex notion of power and wealth that is handed down and how it should be deployed and reckoned with.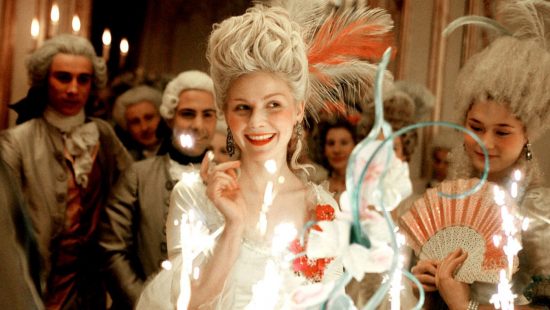 Ultimately though, the film's greatest strength is as a portrait of a woman placed under extraordinary pressures through no decision and with no agency of her own, and Kirsten Dunst's mesmerizing performance – on a par with Von Trier's Melancholia for ache and resonance – manages to make the obscenely opulent last Queen of France accessible and relatable as a symbol of universal female persecution.
Coppola is able to achieve all this by taking such a unique approach to biography, time and cinematic convention. Beyond the infamous 'pop' soundtrack, there's a blend of playfulness and rigour that makes for something complex, layered and riveting. The film manages through composition, anachronism, tonal shifts and a dedicated use of Dunst as cypher, to be both vibrant, clear-eyed and bold in its social themes and simultaneously messy and slow in places to play as a funny treatise on boredom and privilege.
For much of the film, Coppola steps outside her usual formal style, drifting only into familiar hazy, dream-like territory when Marie Antoinette manages to flee Versailles for a time. The rest of the time, she works in a variety of registers that are daring and mischievous and beautiful.
It's not a stretch to say that if a male filmmaker had taken on this story and told it with such brashness and symbolic chutzpah that they would have been lauded. Hopefully the groundswell of cultural change that is growing will ensure more people go back to this delightful film and regret listening to the boo boys of the Croisette and not embracing it when it first arrived.