Holidays rarely go to plan both in real life and the movies, and as Rhys Williams and Cleaver Patterson find out when it comes to onscreen breaks there are often many different reasons why.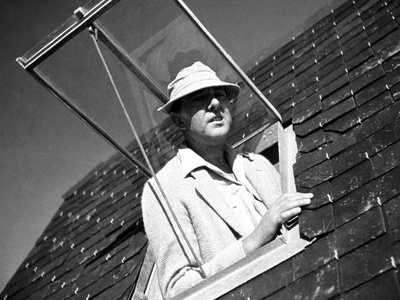 Mr. Hulot's Holiday (1953)
Dir: Jacques Tati
By the early 1950s, Jacques Tati – perhaps France's finest comic actor and director – had built a successful career on a series of mimetic cabaret performances called Impressions Sportives – described at the time by the writer Collette as "partly ballet and partly sport." During the next twenty-five years Tati made only five full features, all of which featured his singular and enduring creation, Monsieur Hulot. Mr Hulot's Holiday was the first to showcase the character whose gangly frame, teetering forward stoop, half-mast trousers and ubiquitous pipe personified Tati's peculiarly Gallic response to the silent genius of Chaplin, Keaton and Lloyd.
The film follows Hulot on a trip to a provincial resort where he inadvertently punctures the mundane seaside idyll with his ham-handed, though guileless, ineptitude. Throughout, Tati conjures up moments of sublime comic brilliance, offset by a satirical undercurrent which, in-keeping with the times, gently mocks mankind's obliviousness in the face of the absurd.
RW

Wake in Fright (1971)
Dir: Ted Kotcheff
We've all experienced the holiday from hell. Setting out with the enthusiasm of expectation, only to be severely disappointed by reality. Just like John Grant (imbued with believable naivety by English actor Gary Bond), in director Ted Kotcheff's acrid and disturbing Australian drama. A young teacher, John's idealistic views on his career path are shattered after being stranded for the Christmas holidays in a dust bowl town in the remote outback. Just as John – and the viewer – think things couldn't get worse, he falls in with a group of low life's led by the outwardly hospitable Doc Tydon (played with a greasy air by Donald Pleasence), before a disastrous downward spiral ensues.
As with Gary's nightmare holiday, this exercise in despondency has an unexpected ending leaving a glimmer of hope that, no matter how bad things get, you can pass through the other end and perhaps even learn something along the way.
CP

The Burbs (1989)
Dir: Joe Dante
It's twenty five years since director Joe Dante's cult black comedy about suburban life was first released. Chronicling the exploits of Ray Petersen (Tom Hanks), the film follows him as he decides – much to his wife Carol's (Carrie Fisher) annoyance – to spend his vacation from work slobbing out at home. However, Ray and his neighbour Art Weingartner (Rick Ducommun), have secret plans on how to spend their time. Convinced that something's not right with the new family who have taken up residence in their suburban cul-de-sac, they're determined to investigate further. It turns out that they're right – but just how wrong the family are is beyond even these big kid's wildest imaginings. From its typically middle American setting, to its sense of boys-own, comic-book adventure, The Burbs is reminiscent of the summer holiday exploits most adolescent boys yearn after, which probably helps explain its enduring appeal amongst men of all ages.
CP
Y Tu Mamá También (2001)
Dir: Alfonso Cuarón
Cuarón's raucous and sexy coming-of-age drama – famously described by Village Voice critic J. Hoberman as "Beavis and Butthead meets Jules and Jim" – is at once a pornographic romp, a sombre socio-political commentary and an elegy on the loss of youth and innocence. The film follows two sex-obsessed teenagers, Julio (Gael García Bernal) and Tenoch (Diego Luna), as they embark on a quixotic trip to Heaven's Mouth; a mythical beach dreamt up in an attempt to seduce the older, apparently innocent, Luisa (Mirabel Verdú).
The initially prevalent tone of boisterous puerility gradually recedes as the narrative unfolds and the complexity of Cuarón's vision is revealed. The interplay of ostensibly disparate formal and thematic strands – including a sombre voiceover which tempers the antic mood with a documentary realism – creates a surprising and multi-layered film; brackish and impious, yet rich in dramatic significance and defined by a tonal bipolarity which beguiles.
RW

Unrelated (2007)
Dir: Joanna Hogg
Hogg's subtle and assured debut, justly lauded on its release, describes a summer in the life of Anna (Kathryn Worth), a cloistered and unhappy forty-something, who travels to Tuscany to share a holiday with an old friend, Verena (Mary Roscoe) and her family. This frequently discomfiting film examines the tensions which arise from Anna's melancholy, divisive and increasingly peripheral presence, but is unusual in that her unsympathetic upper-class hosts are observed in their unpleasantness without directorial judgement. This refreshing lightness of touch allows the characters room to breath, accentuating the taut psychological threads that connect them.
Unrelated is an understated and extraordinarily beautiful piece which derives its power from the coaction of Hogg's formal serenity – she follows Ozu in her appreciation of the power of cinematic stillness – precise observational style and delicate treatment of subject, which quietly demonstrates the power of the trivial to cause pain.
RW

About Elly (2009)
Dir: Asghar Farhadi
Hailed upon its release as a masterpiece of Iranian cinema, this film is as disturbing as it is atmospheric. A group of friends leave Tehran for a weekend holiday by the sea. One of the group, Sepideh (Golshifteh Farahani), invites her daughter's teacher, a single woman called Elly (Taraneh Alidoosti), to join them with the intention of introducing her to their divorced friend Ahmad (Shahab Hosseini). But there is more to Elly than meets the eye and, after she goes missing one morning while playing with the family's children in the sea, the remaining friend's begin to question who Elly really was.
Beautifully executed, this exercise in palpable unease uses the universally recognisable subtext of holidaying with friends – usually a time of fun and relaxation – to lay bare the often-suffocating restrictions of a culture which men still dominate. Anyone who fights these accepted norms – in the same way this film does – leaves an indelible mark on the memory.
CP