Neil Mitchell takes a trip into the American backwoods, where the spontaneous rendition of a musical ditty provides a tuneful, striking contrast to the events that follow in a classic '70s thriller.

Film history is littered with iconic music, both original compositions and existing pieces co-opted to complement, contradict or heighten the emotional reaction to the onscreen visual imagery. Up there amongst the most famous and instantly recognisable of these is Arthur 'Guitar Boogie' Smith's tune Dueling Banjos. Originally entitled Fuedin' Banjos and containing riffs from the pre-Revolutionary War song Yankee Doodle, Smith wrote the foot tapping instrumental in 1955, and recorded it with fellow musician Don Reno, the pair playing four and five string banjos respectively. The tune gained a degree of fame when it was aired nationally in 1963 during an episode of The Andy Griffith Show, but it was with the 1972 release of John Boorman's backwoods thriller Deliverance that the instrumental's place in the public's consciousness was cemented.

Arranged and recorded for Deliverance by Eric Weissberg and Steve Mandell, the impromptu playing of Dueling Banjos by urbanite Drew (Ronny Cox) and Billy Redden's physically deformed teenager at first seems to promise a light-hearted spot of bonding between the visiting city boys and wary locals. As the backwoodsmen jig around and Drew's companions – Ed (Jon Voight), Lewis (Burt Reynolds) and Bobby (Ned Beatty) – look amusedly on, the naggingly catchy instrumental duel reaches a climax that leaves Drew unable to keep up with the local teen's dextrous, frenetic playing. With a baffled exclamation of 'I'm lost', Drew unknowingly foreshadows what's to come, the uneasy, fish-out-of-water scenario symbolically heightened by the unnamed teen's refusal to look Drew in the eye or to shake his hand. Friendships have not been forged by the rendition of Dueling Banjos, and later in the film the backwoodsmen will brutally compound the coldness shown to Drew by his musical sparring partner.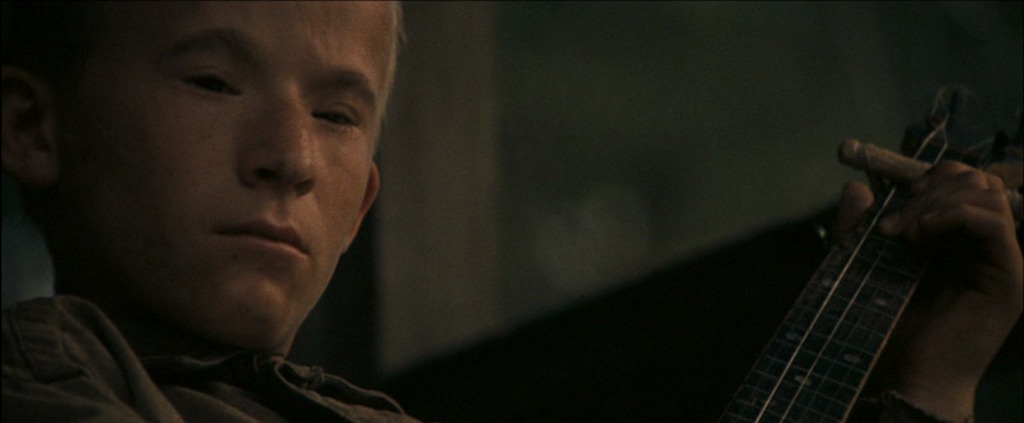 Boorman uses Dueling Banjos to highlight the differences between Drew and his fellow musician, differences that are a microcosm of larger cultural chasms; urban sophistication intruding upon rural simplicity, modernity riding roughshod over tradition and social status looking down on outsiderdom are cleverly addressed during what is ostensibly just two people jamming. Considering the horrors that the weekend vacationers subsequently face, the up-tempo, grin inducing pleasure of Dueling Banjos' appearance in Deliverance is thrown into even starker relief, and one only needs to hear the opening notes of it played anywhere to be instantly reminded of Boorman's classic thriller.
Go Further – Watch Steve Martin and Kermit the Frog's Dueling Banjo's face-off