It's Christmas Day in the Greenaway household. Little Peter is unwrapping his present. It's just what he wanted; not only a 16mm Bolex camera but also a wheeled platform and rails to put it on. He spends the rest of the day lining up his first ever tracking shot.
He would of course go on to produce some of the finest tracking shots known to man; there's a ten-minute-long one in The Baby Of Macon (1993) and a really good one through Oswald's laboratory in A Zed And Two Noughts (1985), but for sheer impact few better this slide between the two worlds of The Cook, The Thief…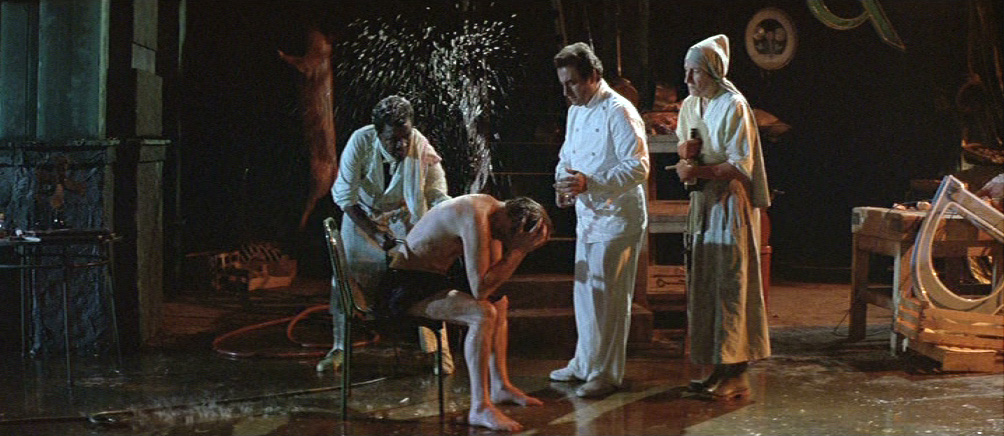 From a starting point of the disgraced Roy, plastered in dog excrement, we are wheeled like a soup tureen on a serving trolley through the kitchen, with waiters collecting food for delivery to tables. With a tricksy little cut, announced by a cello-punishing shift in Michael Nyman's hard core baroque score, the procession moves from the dank hues of the kitchen through to the sumptuous reds of the restaurant.
There's the vile Albert Spica and his cabal of reprobates, hunkered down in front of the gigantic symbolic reproduction of The Banquet of the Officers of the St. George Militia Company by Frans Hals. That single tracking shot potently illustrates the divide between the bloated haves and the servile have-nots that came to characterize Thatcher's Britain.
---
Jez Conolly