It's the perfect setting for a Hitchcock finale; Robert Cummings and Norman Lloyd pitted against each at the top of Bartholdi's green lady, all 151 feet and 1 inch of her. Inside and outside of her torch they tussle, until Lloyd's fifth columnist falls dramatically to his death. Russell Lawson's matte paintings of the statue achieve the perfect balance of scale and drama that location shooting alone would have struggled to match.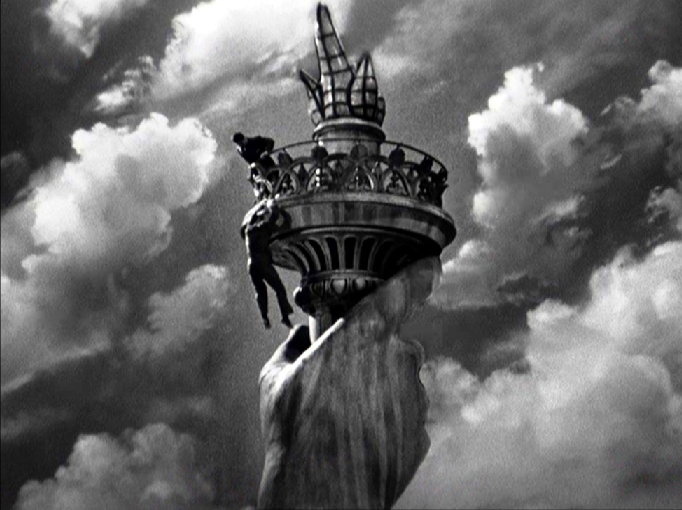 Saboteur, one of Hitch's early American features for Selznick, and now somewhat overlooked, benefits from many of the excellent matte shots but it is the Statue of Liberty climax that lingers in the memory. The sequence is at least as dramatically effective as the more well-known Mount Rushmore chase in North By Northwest (1959), hampered only, in Hitch's own opinion, by dangling the villain rather than the protagonist from Liberty's great height.
Many years later the statue would come in for all manner of dire metaphorical fates. There she is, washed up on the beach, a totum of lost human civilisation in the last frames of Planet Of The Apes (Franklin J. Schaffner 1968). There she is again, face down in the Hudson in the aftermath of the alien attack on New York in Independence Day (Roland Emmerich 1996). She's been frozen – The Day After Tomorrow (Roland Emmerich  (again) 2004) – submerged up to her elbow in sea water – AI : Artificial Intelligence (Steven Spielberg 2001) – and decapitated at least twice – Escape From New York (John Carpenter 1981, admittedly just for the film's poster campaign) and Cloverfield (J.J.Abrams 2008) – but in Saboteur, which began shooting just two weeks after the attack on Pearl Harbor, she is the unshakeable keystone of freedom, standing tall in the face of oncoming war.
---
Also See
Four Frames: Petrol station attack in The Birds (Alfred Hitchcock, 1963)
---
Jez Conolly