In the concluding part of a two-part piece on cinema's wicked, wanton women, Emma Simmonds shifts the focus to four significant French contributions to the character type.
Despite Hollywood's popularisation of the enchantress paradigm as a staple of its fabulous noirs, these slinky villainesses are still most commonly described by the French expression femme fatale. Fittingly, French cinema has also provided us with numerous, memorable examples of women leading men to their doom; both in traditional genre pictures and smouldering at the centre of some of its most iconic and idiosyncratic movies.
---
Nicole Horner, Les Diaboliques (1955)
Dir. Henri-Georges Clouzot
The epitome of 50s cool, Simone Signoret's Nicole Horner is provocatively chic given her profession as a teacher of a boys' boarding school. Sporting dark glasses, cropped hair and smoking from the outset, she is simply sensational. Collected and smoothly callous, she coerces her partner in crime the "cute little ruin" Christina Delassalle (Véra Clouzot) into a plot to bump-off Christina's brutish husband Michel (also Nicole's lover), by playing at being her friend and ally. The pair appear to succeed in their scheme but when the corpse disappears and the dead man keeps turning up unexpectedly, the fragile Christina is forced to question who she can trust. The debt it owed Hollywood noirs of the 40s was predictably repaid when it suffered an American remake in 1996, with – gulp – Sharon Stone as Nicole Horner. Suffice to say, it stank.
---
Marianne Renoir, Pierrot le Fou (1965)
Dir. Jean-Luc Godard
The nouvelle vague directors were famously inspired by Hollywood genre films, whilst affectionately flouting their technical conventions. The collective created their own examples of classic spider women; very much of their own time and culture but every bit as duplicitous and dangerous as their American counterparts. Pierrot le Fou, produced during the tail-end of the movement, has shades of the classic American thriller but is cheerfully absurd, anarchic and wildly passionate. Ferdinand (Jean-Paul Belmondo) takes flight from bourgeois domesticity, running away with a doe-eyed babysitter, Marianne (Anna Karina). It is quickly revealed Marianne has connections to the underworld and soon the pair find themselves on the run from the law. As he grows weary of her recklessness, Ferdinand tells us, "she just wants to have fun." Furthermore, he quickly recognises the imminent peril, saying, "I don't know why, but I'm beginning to smell death." Whilst he craves an isolated, artistic existence she urges him, "Let's go back to our thriller – full of cars, guns and nightclubs." An extra dimension is added to the story by the fact that Karina had recently acrimoniously divorced the film's director Jean-Luc Godard. Thus, to a point, Pierrot le Fou is an attack on womankind, and on Anna Karina specifically. Marianne is undoubtedly conniving and faithless, as well as being a terrible philistine, and she leads Ferdinand seemingly guiltlessly to his (incomparably spectacular) demise. Despite this, Karina's considerable charisma render her more likable than perhaps was the intention.
---
Catherine, Jules et Jim (1962)
Dir. François Truffaut
Another nouvelle vague contribution to the classic femme fatale canon is the magisterial Jeanne Moreau as Catherine, whose capriciousness causes friction in the friendship between Jules (Oskar Werner) and Jim (Henri Serre). Both fall for her sad smile, found portentiously on the face of a statue before they are even introduced. Jules is the first to become entangled with Catherine, whereas Jim instantly recognises her flighty, easily discontented character when he says, "Is she made for a husband and children? I'm afraid she'll never be happy here on earth. She's an apparition, not a woman." Although she marries Jules, she immediately begins to take lovers and is described as, "unusually sweet and generous but when she feels unappreciated she becomes terrible and violently goes from one extreme to the other." Although the comic potential of women's perceived fickleness is explored in another character, Teresa, Catherine for her many foibles appears mentally unstable and a possible bi-polar personality; and Moreau's remarkable performance makes this quite apparent. Catherine's depth and more sophisticated psychology mark her out from traditional villainesses: so is she a femme fatale? Unfortunately, her final dreadful act leaves us in no doubt.
---
Mélanie Prouvost, The Page Turner (2006)
Dir. Denis Dercourt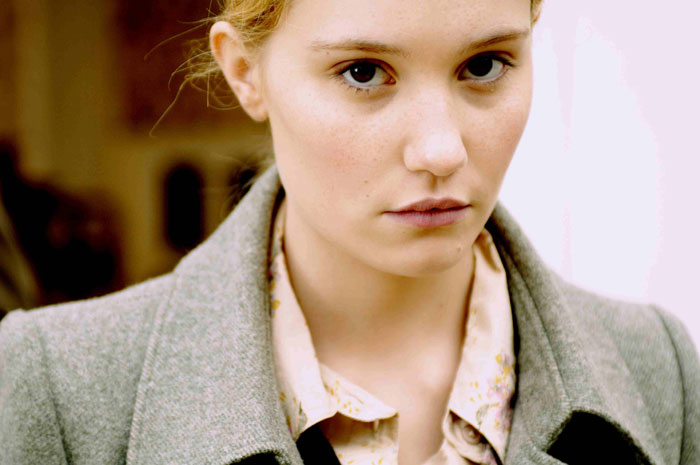 Benefiting tremendously from its unusual, exquisite premise, this thriller concerns the villainous exertions of a young woman, Mélanie (Déborah François), whose target is not a man (although a man will be destroyed by association) but another woman. As a young pianist, Mélanie's dreams are shattered when, during her examination piece, one of the panel – the famous musician Ariane Fouchécourt (Catherine Frot) – allows an autograph hunter into the room; throwing Mélanie irretrievably off her stride. Years later, as a demure and eerily self-possessed young adult, she successfully contrives herself into the employ of first Ariane's husband's law firm, as an intern, and then actually within their home, as the carer of their son, Tristan. Chillingly, we hear that Ariane has been the recent victim of a hit and run, which has detrimentally impacted on her confidence, although it is never made explicit that Mélanie was behind this. In a stroke of extraordinarily twisted luck she becomes Ariane's page turner, sat malevolently behind her, as if poised for attack. An observant friend questions the strange intent with which she watches Ariane but, alas (and of course) she does not take heed. Mélanie doesn't just make herself invaluable as an employee, she takes things further and skilfully seduces Ariane, thereby putting both her career and family life in desperate jeopardy. Ariane describes the importance of the role of page turner when she says, "Playing, you're vulnerable. The person behind you sustains you." Perhaps not if the person behind you is hell-bent on revenge.
---
Emma Simmonds