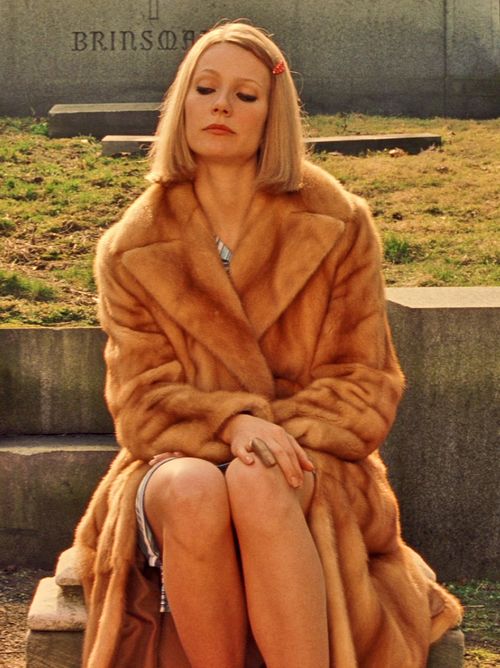 "Don't shop anything – make everything!" Wes Anderson wanted designer Karen Patch to, as much as possible, design and build all the costumes exclusively for the movie The Royal Tenenbaums, which celebrates its fifteenth anniversary this year. The film-maker is known for placing a high importance on the visual aesthetic of his films, and costumes are maybe the most powerful statement, having the ability to reveal more about his characters and their surrounding world than any other element. As well as writing, acting and plot, costume, deliberate colour schemes, composition symmetries and stunning attention to detail all turn Anderson's storytelling into visual art.
The Royal Tenenbaums is a tale of a family of faded glory (inspired, according to the director, by Orson Welles' The Magnificent Ambersons more than anything else, also a story about the decline of a once-great family), still living in their genius heyday. There is Royal Tenenbaum (Gene Hackman), the father, a disbarred attorney who lives in a hotel after being separated from his wife, Etheline, played by Angelica Huston, and their three children, all grown-up, but who have all returned to live at home with her, carefully isolated from one another. They are all former child prodigies, who have since fallen from their great potential. There is Margot (Gwyneth Paltrow), who was adopted and was an award-winning playwright in school, Richie (Luke Wilson), once a tennis champion, and Chas (Ben Stiller), who was a financial whiz as a kid. The characters all wear their personalities on the outside and all the Tenenbaum siblings wear a variation of retro sportswear, but I particularly liked how Margot's and Richie's are interconnected and colour-coordinated.
She wore Bass loafers and it was only when Gwyneth put them on that she said "Now I know who I am."
Karen Patch said that the idea of Margot was based on an old Peter Sellers film, The World of Henry Orient, in which the young girl wears a mink coat to run around New York. She wanted to put Margot in the same look when she was a child and carry it through into adult life. She has worn the same outfit since she was twelve and her costuming speaks volumes about her identity clash. They wanted a tie-waist trench style in caramel colour and sent their drawings and specifications to Fendi, in Italy, who carried out their idea to perfection. Margot's conservative fur coat, vintage-look, boarding-school dark brown loafers and Hermes Birkin bag come in contrast to her rebellious personality, suggested by her heavy kohl-rimmed eyes, chain smoking, and promiscuous sexuality, as well as with her childlike hair clip in her pristine, side-parted, flat-ironed bob and her tad-too-small tennis dresses.
The tennis dresses were Lacoste, a preference of Anderson's, who wanted to use their logo. The brand, which didn't make stripes at the time, only solids, created the dresses especially for the movie, after sending in fabrics so that the costume designer could pick out the stripes she wanted. The dresses play multiple roles: they are a subtle connection to Margot's brother, Richie, once a would-be tennis star, who is secretly in love with her, but they are also deliberately used to suggest that she is trapped in the costume of her life's peak and so to undermine her intelligence.
As with Margot, Richie Tenenbaum is still clinging to the prime of his success – he is a sullen professional tennis player whose career has spectacularly flopped. His costume marks him out as one of the most original characters. His tennis whites grow into a suit – a camel suit that reflects Wes Anderson's own sartorial inclinations – but he still affects preppy t-shirts and a striped headband from the Borg era, and even his arm bands. His large sunglasses (made by the French company Vuarnet, a preppy favourite in the 1980s) and beard signify his early success as a tennis player, but they are also used to hide himself from the outside world and to hide his love for his adopted sister, Margot. And when he shaves his beard off, as the movie builds up towards the end, it's a ritualistic act, reflecting the fact that he may finally come to terms with the reality of life and his current place in it.
photos: movie stills, Buena Vista Pictures/ Everett Collection
sources: interview with costume designer Karen Patch, Elle magazine, November 2014 / interview with Wes Anderson, Vulture magazine, October 2014 / After the Denim