"Here's to the fools who dream." No wonder I love this film. And I don't even like musicals. But here I am talking about La La Land voraciously every chance I get. To be honest, it took me a while to get acclimatised to the opening sequence, but as soon as that was over, I was completely absorbed by this movie's storytelling vivacity, flights of fancy and the perfect chemistry of Ryan Gosling (as Sebastian, a jazz musician) and Emma Stone (as Mia, an aspiring actress in the city of stars). La La Land is movie escapism, an unapologetic romantic homage to classic musicals, but its dream-chasing optimism is anchored in the everyday, in real life. And that's the brilliance of it.
The poster-paint energy and the rousing song and dance numbers may have a saccharine tendency, hinting at Old Hollywood fantasies (the films of Gene Kelly and Vincente Minnelli easily come to mind), but the colour schemes, the mood, its ambivalent approach to romance and the bittersweet ending evoke the 1964 French musical The Umbrellas of Cherbourg, directed by Jacques Demy. Demy, who, in turn, interestingly enough, wanted to pay his own tribute to the classic Hollywood musical (the title alone alludes to Singin' in the Rain). Decidedly tied to, but not traditionally French New Wave, The Umbrellas of Cherbourg is restrained and wistful, and has a tragic undertone, going deeper than the surface of an effusive romantic story, embracing the more complicated emotions of love and life. La La Land occupies the same kind of nostalgic space.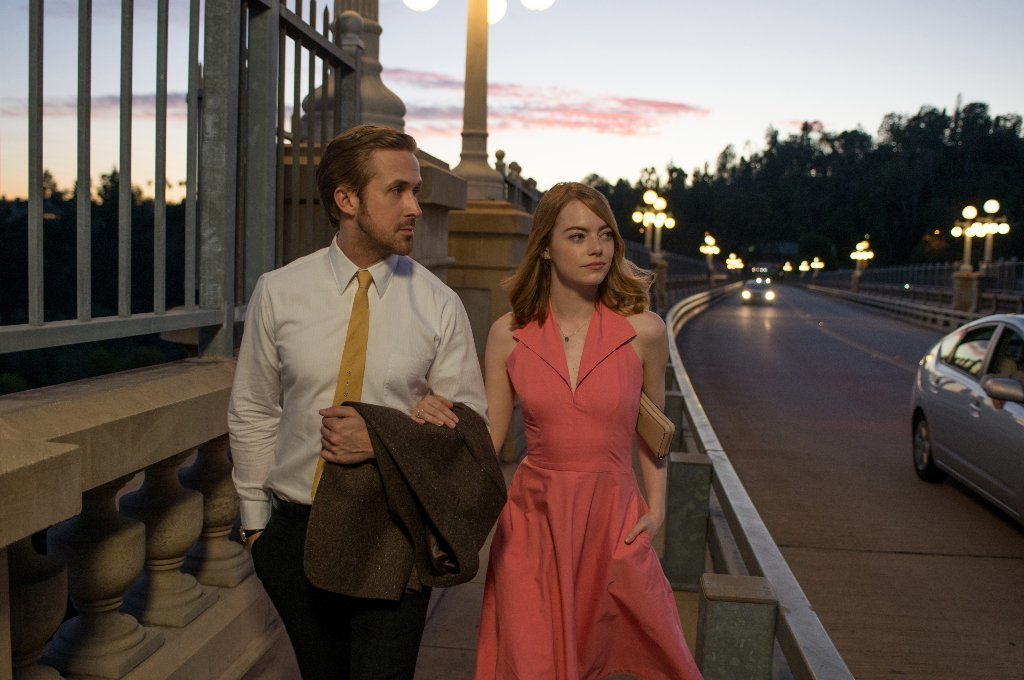 "I want to make people cry", said Jacques Demy about his idea for The Umbrellas of Cherbourg, "about that first love" that doesn't necessarily end up in living happily ever after – Geneviève (Catherine Deneuve) and Guy (Nino Castelnuovo) are two star-crossed lovers who are separated for a year when he is drafted into the Algerian war. What makes The Umbrellas of Cherbourg one of a kind is that the story is told entirely in song, with its characters singing every single line of their dialogue. Demy said that what bothered him about classical musicals was that the song and dance numbers disrupted the unity of the story, and he dreamed of making something seamless. And everything fell in perfect harmony with composer Michel Legrand's lyrical melodies (it took him six months for them to finally start coming to him). "No one believed in it", said Legrand about the film.
Another unusual thing was to make a musical against a realistic setting like Cherbourg. As Catherine Deneuve said in an interview at The National Film Theatre, "a musical was very unusual", a long way from a traditional French film. Though it was shot on an actual location, Demy remained loyal to his idea of paying tribute to the Old Hollywood through stylised decors and bright and cheery colours (the citizens of Cherbourg allowed Demy to paint their homes). "The film used colour like a singing Matisse", said the director.
Indeed, the film displays a glorious use of colour. Demy and cinematographer Jean Rabier worked hard to make this a non-artificial world, anchoring the film's pure visual poetry to the specifics of urban reality. Bernard Evein, the production designer, would create colour palettes and sketches of wallpaper while Jacques would do costume tests against the decor. Demy asked costume designer Jacqueline Moreau to match many of the outfits to the set's equally bright wallpaper for a saturated, '50s Technicolor feeling. The full palette of pastel hues is exploited, from powder blue to lemon yellow, from apricot orange to caramel brown, and in every shot the chromatic of the clothes is matched with the decor and even the locations, sometimes reminiscent of a colourful French macarons store.
A key sequence, especially in terms of costume and colour, comes towards the end of the film when Guy meets Madeleine, the one he chooses to marry, at the café. The café walls are orange, her dress is orange, and Guy arrives in a brown suit, fitting perfectly into her world: he has given up on Geneviève.
La La Land director Damien Chazelle had a similar idea of a universe that blends fantasy and reality, and he brought on the husband-and-wife team of production designer David Wasco and set decorator Sandy Reynolds-Wasco, who are known for their work on The Royal Tenenbaums, Pulp Fiction, and Reservoir Dogs. They insisted on using actual locations, as in the case of Sebastian's home (a real courtyard apartment in the Valley), instead of building them on the set, despite the pressure from the producers, in order to create an environment that would help the actors convey who their characters are.
While the locations bring a sense of reality to the film, the designs and colours allow the viewer, and the characters, to dream. "They'd all come to find their dreams, and their dreams were Technicolor," Reynolds-Wasco says of Mia and her actress-wannabe roommates. They designed her world to be an explosion of primary colours. And, once again, the Old Hollywood musicals and the musicals of Jacques Demy, in particular, served as inspiration. "We punched up the colours to enhance their energy and their hopes for the future. Their world was influenced more by the MGM musicals and the French movies." The design of Sebastian's apartment was different, a stark contrast to Mia's vibrant environment, taking inspiration from jazz photography and black-and-white Nouvelle Vague films.
La La Land is nominated for fourteen Oscars, including both costume design and production design. It would be nice if, for a change, the Academy acknowledged contemporary over period costuming. Films set in the present day, even in the recent past, hardy ever get nominated, let alone win. Speaking of which, I find it interesting that Demy's film was nominated not only for foreign language film, but in four other categories.
It is the correlation of costume, setting and colour that makes the look of La La Land so notable, straddling the line between classic and contemporary. Mary Zophres had to be more than a costume designer, and, as in the case of set designers David Wasco and Sandy Reynolds-Wasco, she was more of a choreographer of colour.
In an interview for The Hollywood Reporter, Zophres said that the research for the costumes included watching a montage of films made by the director (from The Bandwagon (1953) and Singin' in the Rain (1952) to Baz Luhrmann's Romeo and Juliet (1996), Boogie Nights (1997) and Catch Me If You Can (2002)), as well as going through books of photographs of actresses from other time periods and of modern photography – "anything that had an interesting image that could be good for a scene". She mentions jazz pianist Bill Evans, actor/pianist Hoagy Carmichael and James Dean as sources of inspiration for Gosling's character, but particularly The Umbrellas of Cherbourg and The Young Girls of Rochefort (1967).
All of Gosling's clothes were made specially. His wardrobe did not consist of many pieces (one or two trousers that showed off his feet, one dress shirt, a couple casual shirts, two or three blazers, a brown suit), but it was more than enough to help portray his character. The designer insisted on Sebastian not wearing clothes that were too informal, like sneakers, and not even a T-shirt. "Sebastian talks so much about keeping jazz alive, so it's obvious he'd be inspired by previous generations", the costume designer explained.
They also made all the dresses Emma Stone dances in, while her everyday clothes were store-bought to give authenticity to the character, a present day striving actress. There is just one designer dress they used, the navy dress she wears at the end of the movie, and it is by Jason Wu. Zophres says it seemed right to have a designer dress for that scene, because she's at a different point in her life.
But it was Catherine Deneuve who, in fact, inspired the costume designer's choice, namely the dress the French actress wore in a famous photograph taken in London, where she's looking over her shoulder, dressed in a cross-cross bare-back black dress. Notably, the shapes and colours of the two dresses we see Mia in after she leaves for Paris and makes it as an actress are different from her earlier dresses. Form-fitting, and black-and-white and navy, respectively, as opposed to the previous twirling silhouettes and the bright blue, yellow, green and pink.
In The Umbrellas of Cherbourg, Catherine Deneuve wears a black dress and fur coat in the final encounter with Guy. Through much of the story, Geneviève has a joie-de-vivre approach to style, scallop-edged coats, macaron-hued cardigans, pastel shifts, and those bows – Jacques Demy asked his wife, film-maker Agnès Varda, to convince Catherine to change her hair style for the movie and Varda eventually made her sweep her bangs in an up-do loosely tied with a ribbon ("I felt naked without my bangs", Catherine said about her new look, a vulnerability that played out well for her character). Geneviève's outfit in the final sequence is a clear, mature departure from her colourful dresses as a teenager in love. Even her hairdo is more elaborate, but it's also more confined, less free. Colour seems to have faded from Mia's wardrobe, too, in that final part.

here is a clear resemblance in La La Land's ending to Geneviève and Guy's departure. The couples in both movies have missed their chance. "There is a bit of happiness in simply wanting happiness," said Agnès Varda, quoting a line from her husband's debut film, Lola (1961), and "Jacques clearly proclaims happiness as an intention" in his musical, she continues. The Umbrellas of Cherbourg has a bitter ending – Geneviève and Guy happen to meet after a few years at Guy's garage, the business he had dreamed of, and they merely exchange awkward pleasantries. Their conscience dictated their choices in life.
Chazelle finds a way to make his film entirely his own through a unique presentation at the end. Sebastian and Mia, too, both reached the goals in life that first drew them together after that chance encounter, but the finale is told completely through aesthetics, which, on the other hand, could be Chazelle's poetic version of Demy's choice to set his entire movie to song.
The chance meeting of Mia and Sebastian turns into a dream of what could have been if everything "had turned out right". Chazelle takes the audience on a magical experience rarely seen since the heyday of musicals, a lavish dance sequence playing off Justin Hurwitz's music pieces heard throughout the film, a final seven minutes without dialogue.
Mia and Sebastian do not exchange any words when they meet after five years, but their looks and smiles at each other when she looks over her shoulder before leaving his jazz club say it all. It's not bitter, it's a bittersweet ending. They were guided by their separate dreams to make the choices they made, even though that meant leaving a common dream behind. Jacques Demy was the one who "wanted to make people cry" with his film, but it was Damien Chazelle's final act, executed so artfully, that made me tear up. And I don't even like musicals, remember?
sources: French television interview from 1964 featuring director Jacques Demy and composer Michel Legrand discussing the film / audio recordings of interviews with Catherine Deneuve (1983) and Michel Legrand (1991) at the National Film Theatre in London / the 2008 documentary "Once Upon A Time…The Umbrellas of Cherbourg" (all of the above available on the Criterion Collection blu-Ray edition of the film) / interview with costume designer Mary Zophres, The Hollywood Reporter / interview with production designer David Wasco and set decorator Sandy Reynolds-Wasco, The Architectural Digest
photos: movie and publicity stills from "La La Land" (Lionsgate/ Dale Robibette/AP) and "The Umbrellas of Cherbourg" (Parc Film/ Madeleine Films/ Beta Film)
This content is published courtesy of classiq.me