Not every WWII-set drama manages to successfully combine its wartime themes with the human stories of its characters. It is with particular pleasure then that we welcome back into cinemas director Fred Zinneman's multi-award-winning, box office-busting From Here to Eternity.
In depicting the lives of a group of US service personnel stationed on the Hawaiian island of Oahu in the months leading up to the Japanese attack on Pearl Harbor, the film fuses powerful character study with a slice of gritty social and military history. Zinneman, fresh from the huge success that was High Noon (1952) had a well-documented struggle to get his way over the casting decisions. Producer Harry Cohn pressed to use actors already under contract to Columbia Pictures, but Zinneman kept returning to mammoth James Jones novel which was their source materials to inspire his preferences.
Stand by your man: Donna Reed and Montgomery Clift
Wholesome Donna Reed, actually one of Cohn's choices, won the part of 'dance hall hostess' (code for prostitute) Alma 'Lorene' Burke, a role offered to but turned down by Shelley Winters who had recently given birth to a daughter. Reed excelled, winning the Best Supporting Actress Oscar. The role of rebellious loner Pvt. Robert E. Lee Prewitt, at one stage set to be played by Cohn's favoured Aldo Ray, went to Montgomery Clift. Although not an obvious choice in many people's books, Clift threw himself into the part, learning to play the bugle and gaining experience of military drill and boxing.
Demure Deborah Kerr would eventually land the part of the unfaithful adulterous Karen Holmes. Joan Fontaine had initially been considered, as had Joan Crawford. Crawford would turn the part down because she didn't like the costumes. Which brings us to the film's most celebrated scene: Kerr and Burt Lancaster (possibly the only obvious perfect fit for the role of the rugged Sgt. Milton Warden, although Cohn wanted Tyrone Power) enjoying a passionate clinch in the surf. Censors demanded that Kerr's bathing costume should feature a skirt. The eventual garment would come to be regarded as one of cinema's iconic fashion statements, one that helped Kerr's career no end. "I don't think anyone knew I could act until I put on a bathing suit" Kerr said in an interview with Collier's Magazine.
According to Zinnemann in his 1992 autobiography:
That scene, regarded as sensational and extremely provocative a mere 25 years ago, seems harmless and friendly by today's standards. Although it was shot very much as written, the movie censors, who knew the script by heart, nevertheless insisted on deleting four seconds of it. In later years I found that even more had been snipped out by theater projectionists, as a souvenir no doubt. For many years the tourist buses used to stop routinely at this point on the Hawaiian shore to let people admire 'the spot where Burt and Deborah made love in the waves.' It is a curious contribution we have made to popular culture.
When asked in the late 1980s what it was like shooting the famous scene, Lancaster simply answered, 'It was cold, and I was wet.'
Montgomery Clift toots while Frank Sinatra looks on
Frank Sinatra, who would go on to win Best Supporting Actor Oscar for his performance as Pvt. Angelo Maggio, had to fight and plead for the role, after first choice Eli Wallach backed out. Sinatra's marriage to Ava Gardner was in trouble, his career was in a slump, and throat problems made him fear his singing days were over. As the story goes, Sinatra heard about From Here to Eternity and, knowing he would be perfect as the Italian private, bombarded Cohn, Zinnemann, and co-producer Buddy Adler with pleading telegrams signed 'Maggio'. Rumour has it that Sinatra offered to play the role for free, or even pay Cohn for the opportunity, and Gardner called Cohn with a last-minute plea on behalf of her estranged husband. There's a popular myth that would have you believe Sinatra got the part because of his mob connections, a piece of fiction that supposedly inspired the famous horse's head scene in the The Godfather.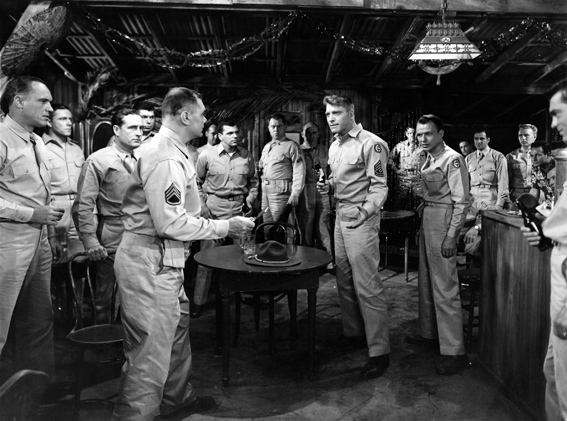 Burt Lancaster gets ready to rumble
The film bagged eight Oscars in total, including Best Director for Zinneman. It was uniformly well-received by critics and a significant hit at the box office, beaten into second place that year only by the first Cinemascope picture The Robe (Henry Koster 1953). Variety declared it 'an outstanding motion picture in this smash screen adaptation… an important film from any angle, presenting socko entertainment for big business… raw, tough dramatic stuff of great entertainment pull for adult ticket buyers,' with 'a cast seemingly so perfect for the roles it would be hard to imagine anyone else playing the characters.' The New York Times found it 'a film almost as towering and persuasive as its source,' and stated that 'as a job of editing, emending, re-arranging, and purifying a volume bristling with brutality and obscenities, From Here to Eternity stands as a shining example of truly professional moviemaking.' If you have yet to experience From Here to Eternity on the big screen, as it was meant to be seen, it will be showing in selected cinemas from Sunday 19th September.
---
Go Further
Download The Big Picture issue 10: Rebellious Loners and the Cinema of Discontent
---
Jez Conolly