In the 1966 thriller The Quiller Memorandum, George Segal is sent to West Berlin to dismantle a neo-Nazi cell. Filming in a city where buildings hold particularly powerful associations, director Michael Anderson employs architecture as a metaphor for its past and its present.
Segal meets his controller in the stadium built by the Third Reich for the 1936 Olympics. As the pair slowly walk its terraces, the roar of a vast crowd fades in and out on the soundtrack, a haunting echo of events captured in Leni Riefenstahl's epic propaganda film Olympia.
Later Segal is followed through the streets of the Europa-Centre, a sleek new American-style leisure, residential and office precinct opened only months before shooting began. Intended to demonstrate the continuing economic recovery of the Federal Republic of Germany just a few years after Berlin was itself divided, its light, elegant steel and glass buildings, in International Modernist style, provide a physical and metaphorical contrast to the heavy, almost elemental stone of Werner March's stadium. Openness is emphasised again by the walls of glass and double-height interiors of a new school where Segal meets a young teacher.
Mike Hodges reversed this approach in Get Carter, made five years later, making a subtle connection between the amorality of the principal characters and the harsh new architecture of early 1970s Britain, perhaps paralleling the then-recent scandal of local building designer John Poulson and politician T. Dan Smith. The seed is planted in the very first shot, where Jack Carter – a killer, it should be remembered – stares out through the window of what appears to be a modernist building but is revealed to be a very traditional house. As Carter heads north, he discovers the horror to have befallen his niece whilst staying in her procuress's flat in St Cuthbert's Village; despite its name, a new estate, system-built from pre-fabricated concrete sections. Corrupt businessman Cliff Brumby plans a restaurant in the eyrie atop the Brutalist Trinity Square car park, and is murdered there. Coming full circle, Carter meets his end on a beach blackened by coal that is dumped by a mechanical conveyor.
Another clash of cultures is found in the fifth Bond film, You Only Live Twice, made in 1967. It was one of the first Western productions to shoot on location in Japan, under director Lewis Gilbert. Featured is the Hotel New Otani with its rotating rooftop restaurant, opened in 1964 to coincide with Tokyo's hosting of a newly technologized Olympics.
Sydney Pollack followed Gilbert to Japan a few years later to make The Yakuza. The 1966 Kyoto International Convention Centre, with its dramatic architecture of interleaved triangles and raking struts set amongst a traditionally-styled water garden, is the location for a crucial scene in which the past meets the present. Both films depict the country and its culture carefully embracing an occidental modernity.
Andrew Niccol's Gattaca is that rare thing, an optimistic science fiction drama. That message is repeated in an understated manner through much of its design, from the sharp, contemporary tailoring of Colleen Atwood's costumes to the careful use of characterful designs from the 1960s that reflect aspiration and confidence. The Studebaker Avanti automobile by French-born industrial designer Raymond Loewy, for example, represented a break from the past by the venerable car maker when launched in 1962.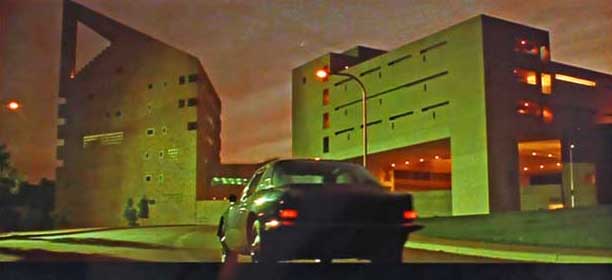 The same year saw the opening of the first stages of Frank Lloyd Wright's domed Marin County Civic Centre outside San Francisco, which serves as the location for the exteriors and selected interiors of the Gattaca Aerospace Corporation. Completed after Wright's death, the Centre elaborates his architectural language of soft curves and circles, established at the Guggenheim Museum, Johnson Wax complex and VC Morris gift shop, and takes it to a heroic level whilst maintaining a feeling of warmth and even maternal safety. As a launchpad to the stars, it could hardly be bettered.
A positive vision of the future circa 1962.