Cleaver Patterson and Kieron Moore pull out their binoculars for a close-up look at some of the movies where the animal kingdom takes centre stage.
NATIONAL VELVET (1944)
Dir. Clarence Brown
When young horse fanatic Velvet Brown first sets eyes upon a magnificent gelding she calls The Pie, she falls in love and dreams of racing him in the Grand National. This unashamedly sentimental classic horse racing drama is notable for its remarkable performances from two stars in the making – eleven year old Elizabeth Taylor brings Velvet's naïve and believable passion to the fore, while Mickey Rooney demands attention as former jockey Mi, who's trying to forget a traumatic accident when his life is turned around by his experiences with Velvet and The Pie. But to praise these two only would be to overlook the performance of The Pie himself, in reality named King Charles and gifted to Taylor after filming. The magnificently athletic horse's part in the climactic Grand National scene can't fail to carry the audience away with its, as Velvet's mother calls it, breathtaking folly.
Kieron Moore
Watership Down (1978)
Dir: Martin Rosen
The animated classic Watership Down, based on Richard Adams' novel of the same name, is the celluloid visualisation of a perfect England. The film follows a group of rabbits who, after the warnings of a young buck called Fiver (voiced by Richard Briers), leave their warren (which is destroyed by men) to establish a new home safe from the threat of humans, a vicious colony of warrior rabbits and the various other animals they encounter on their perilous journey to safety. As important as the story in Martin Rosen's screen interpretation, is the sparse, watercolour animation used to bring the southern English setting alive. This – along with the vocal talents of a who's who of British thespian aristocracy, and Mike Batt's hit song Bright Eyes – created a bucolic vision of animal and country life which, sadly, could never exist in reality.

Cleaver Patterson
LONG WEEKEND (1978)
Dir. Colin Eggleston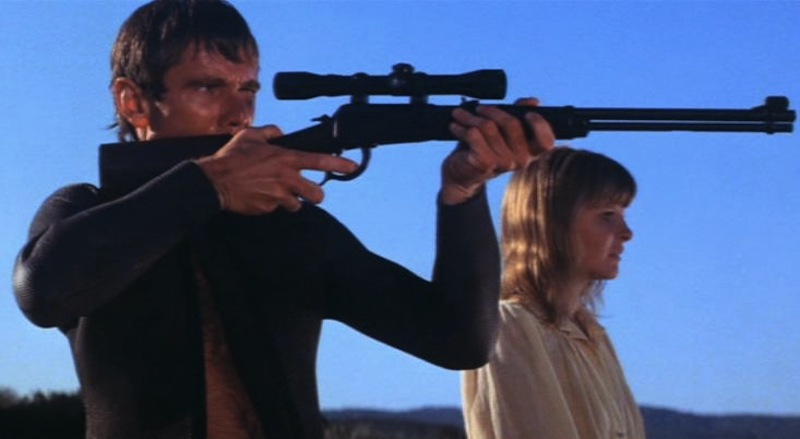 While a typical eco-aware film would focus on humanity's destructive oppression of nature, Colin Eggleston's Ozploitation horror does exactly the opposite – it's a revenge story in which nature gets its own back. Thoroughly detestable couple Peter (John Hargreaves) and Marcia (Briony Behets) head out for a camping weekend and disrespect nature in every way conceivable – before they've even arrived, Peter's tossed a cigarette from his 4×4 and ran over a kangaroo. It's no wonder nature gets angry. Think Hitchcock's The Birds, but with no civilization in sight and the entire environment – animals, plants, even the geography itself – out to kill. A repeated guttural screaming from an unidentified animal source drives Marcia to madness, and there's no way out of the woods – the terror is all-encompassing and inescapable. Though the power dynamic may be the other way around in reality, Long Weekend is a karmic fable, serving a violent reminder that we're not the only species on the planet.
Kieron Moore
Gorillas in the Mist (1988)
Dir: Michael Apted
It is said that truth is stranger than fiction, and no more so than with the story of Dian Fossey who, in the mid 1960s, left a comfortable life in California to save endangered gorillas in the African jungle. Her love for these noble animals won her few friends amongst local people – many of whom made a living poaching the gorillas – and is what likely led to her murder, which remains a mystery to this day. Celebrating its twenty-fifth anniversary, the film starring Sigourney Weaver in a Golden Globe winning role as Fossey and Julie Harris (who died this summer) as her friend Rosamond Carr, is an evocative depiction of one of Earth's most beautiful environments. Gorillas in the Mist is also a moving testament to some of nature's most majestic animals and the woman who sacrificed her life to bring them justice.
Cleaver Patterson
Free Willy (1993)
Dir: Simon Wincer
W.C. Fields quipped that you should "never act with children or animals". In which case the adult cast of this family adventure had their work cut out.  However, the story about Jesse (Jason James Richter) – a young boy placed in foster care after his mother abandons him, who then befriends Willy the orca whale at a water-park where he is sent to help out for the summer – turns that theory on its head. Surrounded by well-meaning adults who have trouble relating to them, the two misfits forge a bond that forms the basis for a film which confounded critics and became a box office smash, spawning three sequels. Hardly surprising either that Michael Jackson, renowned for his childlike affinity with animals, provided Will You Be There, the film's theme song – its bittersweet lyrics perfectly capturing the story's underlying sense of hope and longing.
Cleaver Patterson
THE STORY OF THE WEEPING CAMEL (2003)
Dir. Byambasuren Davaa and Luigi Falorni
Following a family of nomadic shepherds in the Gobi desert, The Story of the Weeping Camel raises the much-discussed issue of the boundary between fiction and non-fiction; while the people on screen really are shepherds, and many events shown are genuine, the filmmakers have placed this within a mystical narrative framework. When a newly-born camel is rejected by its mother, young Ugna and his brother must seek a violinist who can perform a ritual to bring them together. Shot like a Direct Cinema documentary, the family's lives appear to be portrayed genuinely, rather than manipulated by intrusive camerawork or by the addition of music. At a gentle, ponderous pace, the people and their traditions are allowed to tell the story. The film never states whether it is fiction or non-fiction, but it does, with effective simplicity and an uplifting family tale at its heart, capture the reality of life in this unfamiliar world.
Kieron Moore
Agree/disagree with our list? Tell us which films you would add…