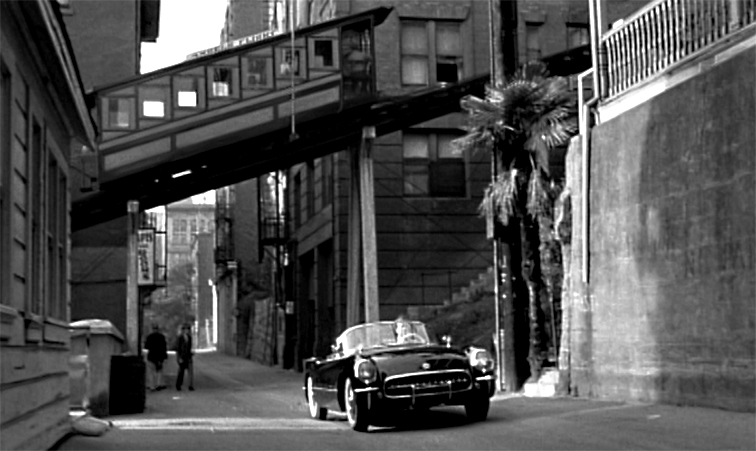 Kiss Me Deadly—a brutal, brilliant film noir that set the high-water mark for Cold War paranoia—is finally getting the deluxe DVD reissue it deserves on June 21st courtesy of the wonderful folks at the Criterion Collection. Below is a pivotal scene from the film as featured in the World Film Locations: Los Angeles book available to buy from August.
About an hour in to Robert Aldrich's Cold War noir/pulp classic Kiss Me Deadly there is a brief appearance by 'Olivet' and 'Sinai', the two cars that ploughed up and down Angels Flight funicular railway in the Bunker Hill area of LA from the time of its construction in 1901. With just 298 feet of track it became known as 'the shortest railway in the world'.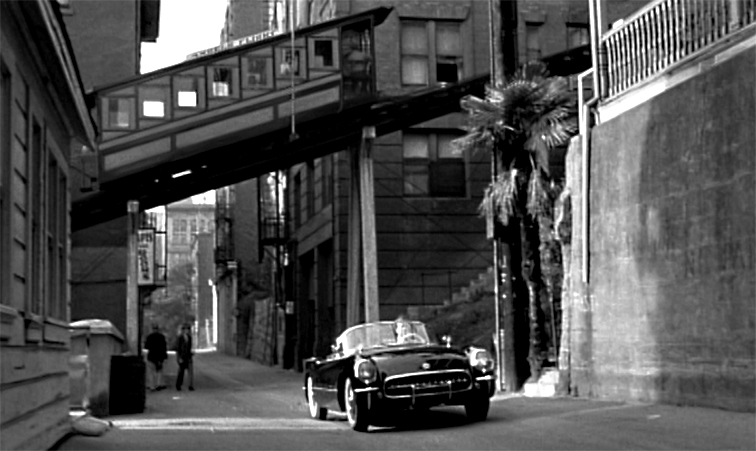 When the railway was first pressed into service Bunker Hill was one of the city's more fashionable neighbourhoods; but by the time Aldrich came to film there the once grand houses of the area's wealthy elite had been reduced to a semi-dereliction of dosshouses – the perfect setting then for private eye Mike Hammer's (Ralph Meeker) seedy investigations into the underworld.
Hammer is headed for the Hillcrest Hotel where, in typical Mickey Spillane style, he's about to force information out of a second-rate tenor by smashing his rare recording of Caruso's Pagliacci. We see Hammer drive underneath the tracks, timed perfectly so that the two rail cars cross above him; a shot that illustrates Hammer's ability to worm his way under the surface of the city in his attempts to reveal the facts beneath the façade of the case he is pursuing. Despite the area's continued decay, the Angels Flight railway continued to operate until 1969, when it was eventually dismantled. However, 'Olivet' and 'Sinai' returned in the mid-1990s when the track was erected once more, half a block south, adjacent to the California Plaza.